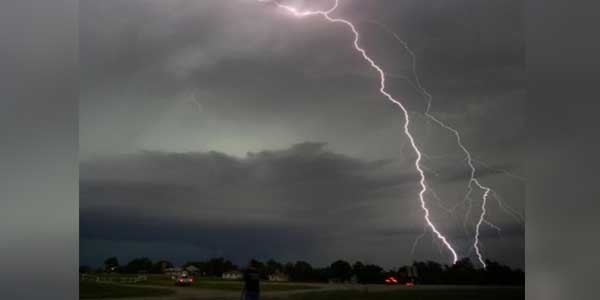 Mumbai: Pre-monsoon showers accompanied by gusty winds lashed Mumbai and surroundings on Saturday even as three people were killed in incidents of electrocution, officials said.
The rains started on Saturday evening in many parts of Mumbai, Thane, Palghar, Raigad and Ratnagiri after dense cloud formation since late afternoon, and later developed into a thunderstorm with lightning and continuous drizzling.
Flight operations at the Chhatrapati Shivaji Maharaj International Airport were hit with delays in arrivals and departures and diversions of several domestic, international and cargo flights.
While Sri Lankan Airways' Colombo-Mumbai flight was diverted to Ahmedabad, other flights of Jet Airways, GoAir, Qatar Airways and various airlines were also diverted.
Jet Airways announced that due to air traffic congestions following adverse weather conditions, delays of up to 45 minutes in departures and arrivals were expected till 11.30 p.m tonight.
In the first rain-related tragedy, two persons including a minor girl, were electrocuted when they came in contact with a live wire during heavy rains in Khindipada of Bhandup West here.
The victims — Anil Yadav, 32 and 9-year-old Zara Yunus Khan — were rushed to the MT Agarwal Hospital in Mulund, but were declared dead.
In another such incident in Bhandup East, Om Fadtare, 23, also died of electrocution.
The India Meteorological Department (IMD), Mumbai issued a storm warning for Thane and surroundings, with chances of thunderstorms, lightning, strong winds and rains in many parts this evening.
Several areas of Mumbai suburbs and surroundings experienced brief power outages and snapped cable connections this evening following a technical snag in the Interconnecting Transformer of the MSETL in Kalwa on Friday.
"To minimize the inconvenience, we have ensured that the Reliance Energy's Dahanu Power Plant runs at its full capacity of 500 MW. We may continue rotational load-shedding in some areas till normalcy is restored in the grid to reduce discomfort to our customers," a Reliance Energy spokesperson said this evening.
Tata Power said that after the Kalwa incident on Friday, its Trombay Thermal Power Station and other Hydro Units functioned full capacity to meet Mumbai's power requirements and thus prevented load-shedding.
Meanwhile, in view of the storm warnings in and around Mumbai, all civic and disaster units remained in a state of high alert to tackle any emergencies that may arise.
On account of the welcome showers, temperatures dipped sharply in Mumbai, from the average of 35 to around 26 degrees, as the citizens enjoyed a respite from the hot humid weather since the past few days.