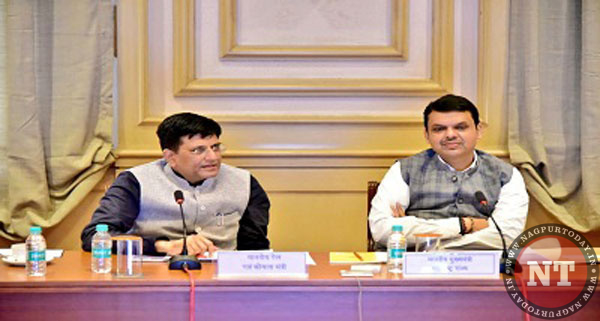 Mumbai: Maharashtra Chief Minister Devendra Fadnavis and Union Railway Minister Piyush Goyal yesterday held a review meeting about railway-related projects in Mumbai and Maharashtra.
Among other things, issues regarding implementation of an Integrated Ticketing System in Mumbai "were resolved" in the meeting, a statement from the chief minister's office said.
The system will seek to integrate ticketing for different transport systems — trains, metro and bus service — operating in Mumbai.
The work of the Rs 2,782-crore Mumbai Urban Transport Project-3 (Panvel-Karjat corridor) would be speeded up, it was decided in the meeting.
The MUTP-3A projects, Belapur-Seawood-Uran new line, Panvel-Kalamboli coach terminus and land acquisition issues of Roha-Veer project were also discussed. Land acquisition for a sixth line between Mumbai Central to Borivali, land requirements for Ahmednagar- Beed-Parli Vaijnath, Wardha-Ballarshah, Bhusaval-Jalgaon and Wardha-Nagpur third line was discussed in the meeting, the CMO said.