A part of nationwide series of raids including Ahmedabad, Bharuch, Gandhinagar, Delhi NCR, Mumbai, Pune, Patna, Chennai, Bangalore, etc
Raids across India resulted in seizure worth hundreds of Crores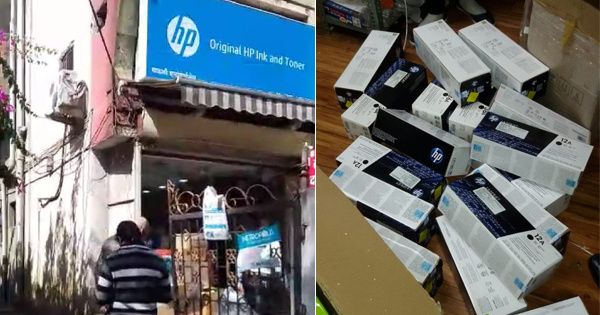 Nagpur: With a view to fight the growing menace of counterfeit products being sold to hapless consumers online and through retail, and to protect the brand value of HP, the leading technology brand in the country, conducted raids across India with the assistance of Police. These raids were conducted in cities likeAhmedabad, Gandhinagar, Bharuch, Delhi, Gurugram, Mumbai, Pune, Thane, Patna, Kanpur, Kannauj, Chennai, Bangalore, Siliguri, Ambala, Panipat, etc and have culminated in seizure of counterfeit products worth hundreds of Crores.
One such raid was conducted at a retail shop on Dhantoli localityof Nagpur with the assistance of Maharashtra Police. Led by policemen from Nagpur City's DhantoliPolice Station a retail shop Mauli Enterprises situated at Abhyanker Road, Dhantoli, Nagpur(and its godowns) was raided and counterfeit HP and Samsung productswere seized.
3 people named SagarParasramTaulekar, AkashParasramTaulekar and ShubhamPhatingwere arrested in connection with possession and sales of counterfeit HP and Samsung Products following an FIR which was registered against themand the shop (0022/19).
The raid team comprised of law enforcement agents who identified the counterfeit goodsand led by Officials from Dhantoli Police Stations. The raid led to seizure of fake HP products mainly counterfeit printer toners.
There were a lot of complaints pertaining to questionable quality and / or spurious products from customers across the country who were duped to buy these counterfeit products from either retail shops or web marketplaces. The company investigated such complaints and the same lead to many raids across the country, including these in Nagpur.