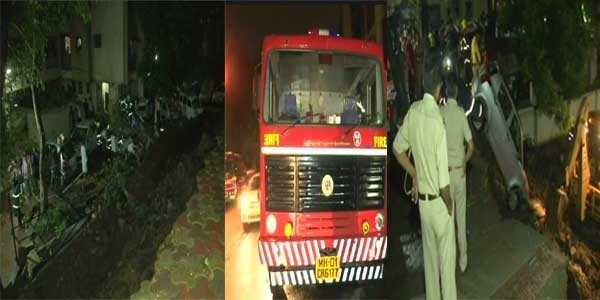 New Delhi: Wall of a building in Jogeshwari area of Mumbai collapsed due to incessant rains. At least six cars and one bike parked were crushed. Soon after the incident, fire brigade and the police team rushed to the spot. No injuries were reported in the incident.
Police with the help of jumbo machines were seen removing the debris as locals looked upon. Due to heavy rains, the area was inundated. Trees were also uprooted due to rainfall. More details are awaited in the incident. Mumbai has been witnessed heavy pre-monsoon rains.
Residents got relief from the sweltering hot and humid Mumbai weather condition as incessant rainfall brought the temperature down by several notches. Traffic jam and waterlogging were also reported in several areas due to Mumbai rains.
Maharashtra had recorded scattered light to moderate rain for the past few days. Skymet predicted that light to moderate rain will continue to affect Pune and South Madhya Maharashtra.