Maharashtra hailstorm kills 2, damages standing crops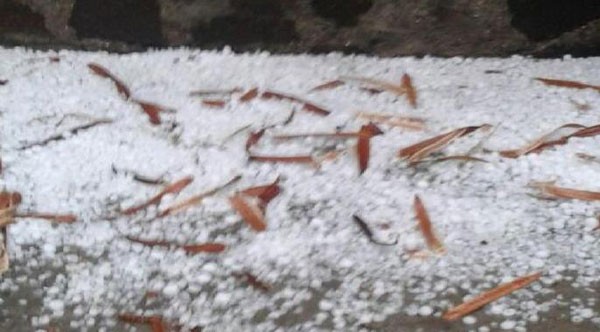 Nagpur: Two persons were killed and two others injured as unseasonal rains, accompanied by hailstorm, lashed parts of Maharashtra's Marathwada and Vidarbha region, razing huge tracts of standing crops on Sunday, officials said.
The hailstorm, which hit Jalna, Beed, Amravati, Buldhana, Washim, Akola and surroundings, flattened the standing crops of wheat, grapes and chickpea besides hitting mango cultivation in large areas.
The hailstorm, which barely lasted 15 minutes in some parts of Jalna and other places, transformed the green fields into white "snow-covered" vales as of Jammu & Kashmir.
Farmers also complained they lost their crops of gram, oranges, banana, jowar and others in the natural calamity.
As hailstones, the size of tennis balls in some areas, bombarded the region, at least two persons were fatally hit.
They were identified as Yamuna Humbad of Washim and Namdev Shinde, 70, of Jalna. Two others in Washim were injured.
The Maharashtra government moved into active mode with Agriculture Minister Pandurang Fundkar announcing that all farmers would be compensated for their crop losses.
He added that a meeting of insurance companies has been convened in this regard in Mumbai on Monday.
Cooperation Minister Subhash Deshmukh ordered district officials to start preparing panchnamas and other records immediately to assess the losses to disburse aid to the affected farmers.
Leaders of Opposition Radhakrishna Vikhe-Patil (Congress) and Dhananjay Munde (NCP) demanded that the government must make a survey and immediately arrange to compensate the farmers before the upcoming Budget Session in March.
Chief Minister Devendra Fadnavis had on Friday warned farmers to beware of rains and unseasonal rains, after India Meteorological Department's Pune centre had forecast hailstorms for February 10-12 and advised farmers to complete harvesting of rabi crops before February 12 and keep the produce in safer place.