Nagpur News:
The Maharashtra Day (May 1) was celebrated with glorious tradition and in the atmosphere of cheerfulness at Kasturchand Park in Nagpur City. Guardian Minister of Nagpur District Shivajirao Moghe took the salute from Nagpur police including State Reserve Police Force (SRPF) jawans on the occasion. The police and SRPF jawans carried out a parade in a glorious way. The women police and women SRPF jawans also participated in the parade which added the attraction of the parade. A dog squad of Nagpur Police too saluted the minister. Police Band, too, in their beautiful and traditional uniforms, was an attraction of the function.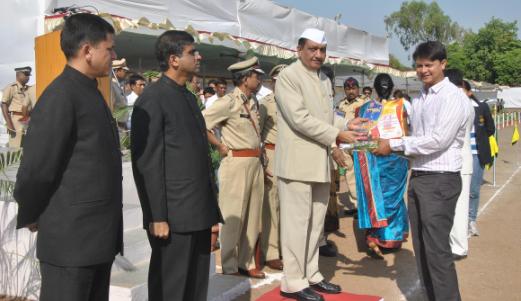 Guardian Minister of Nagpur District Shivajirao Moghe in his speech on the occasion stressed on the fact that Nagpur is soon going to be capital of Tiger Projects as 13 Tiger Prejects are being developed in the  200 kilometers nearby areas of Nagpur. Nagpur city is the only city in country with mindboggling forests and jungles in large areas. The Maharashtra has maintained the image of a progressive state for the 53 years when the Maharshtra State was formed on May 1. The Maharashtra Day is being celebrated from May 1, 1960. Maharashtra was formed by splitting Bombay Presidency in two states. The other state being Gujarat which also celebrates Gujarat Day on May 1. The Central Government has honoured the state by way of launching the schemes the state first started in Maharashtra.
Moghe further said, Maharashtra is the land of saints, brave soldiers, patriotic as well as other personalities. Sant Dnyaneshwar, Chhatrapati Shivaji Maharaj, Mahatma Jyotiba Fuley, Lokmanya Tilak, Rajashtree Shahu Maharaj, Sant Gadgebaba, Rashtrasant Tukdoji Maharaj and Bharat Ratna Dr Babasaheb Ambedkar  are the sons of Maharashtra.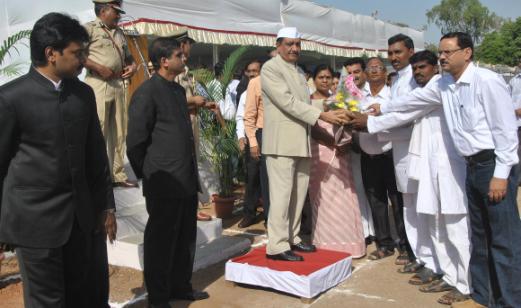 Moghe said a whopping 18.50 lakh accounts of students were opened in various banks for the purpose of e-scholarships and Rs 1800 were distributed to students as scholarships. Similarly, a provision of Rs 1400 crore has been made for other backward class students though Rs 700 crore are yet be given to schools and colleges. However, he appealed  the schools and colleges not stop admissions of students on this count. He further said that all the beneficial schemes of Maharashtra Government would be linked to Aadhar card. The target of 100 per cent cards in Nagpur district would be completed within next four months. He mentioned the benefits of Aadhar cards to people in general and poor, downtrodden, and  other backward class people in particular by way of subsidies on ration for BPL  card holders at PDS, domestic gas cylinders etc. Many poor and downtrodden people are getting benefited by the Aadhar cards as subsidy amount has been directly deposited in their bank accounts opened by thousands of such people.
Moghe also honoured policemen for outstanding services with Police Medals. Similarly, he honoured several prominent personalities in sports, social work and other fields. Other top Government officials who participated in the celebration include Divisional Commissioner  B V Gopal Reddy, District Collector Saurabh Rao and Police Commissioner K K Pathak, Nagpur Improvement Trust (NIT) Chairman Pravin Darade,  Nagpur Municipal Corporation Commissioner Shyam Vardhane , Additional Municipal Commissioner Hemant Pawar, and other officials and noted citizens.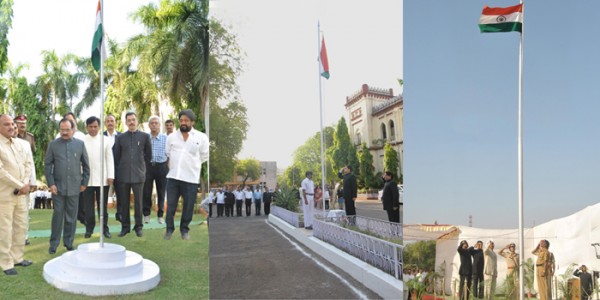 COLLECTOR OFFICE: Similarly, the Maharashtra Day was also celebrated  in the premises of Collectorate. Collector Saurabh Rao unfurled the national flag to mark celebration of Maharashtra Day. Additional District Collector Asha Pathan, Vinay Moon, Resident Deputy Collector Pramod Bhusari, Deputy Collector Nishikant Sukey, Sunil Padole, Ram Joshi, Prashant Kale, Pradeep Dange, Sujata Gandhe, Prakash Patil, Y V Kumbhare, District Social Welfare Officer Nitin Pande, Dilip Talmale, D M Mankavade, and Rajlaxmi Shah were present on the occasion.
TEHSIL OFFICE: The Maharashtra Day was also celebrated at Tehsil Office. SDO Prakash Patil unfurled the national flag. Deputy Collector Sunil Padole, Tehsildar Kumre and other officials and workers were present.
NMC: The Nagpur Municipal Corporation, too, celebrated the Maharashtra Day in its premises at 7.30 am. The Mayor Anil Sole unfurled the national flag. NMC Commissioner Shyam Vardhane, Standing Committee Chairman Avinash Thakre, Additional Municipal Commissioner Hemant Pawar, NCP leader Prakash Gajbhiye, Deputy Commissioners Rizwan Siddique, Sanjay Kakde, Additional Deputy Commissioner Ravindra Kumbhare, Superintendent Engineer Prakash Urade, Deputy Director Dr Milind Ganvir, Deputy Director (Finance) Suvarna Pande, NMC Secretary Harish Dubey, Assistant Commissioner Dilip Patil and other officials and employees were present on the occasion.
It may be recalled that May 1 is also celebrated as Labour Day world-wide including India.