Nagpur: yestarday, at around 12 noon, a JCB engaged by Mahametro contractor damaged the 11KV Jaidurga feeder leaving thousands of consumers fretting for hours together. It was learnt that more than 8 thousand consumers had to go without power for more than one hour while SNDL engineers struggled to backfeed the supply. It was informed by the franchisee that one Rajesh Bawangade (M. No. 86249 77714) who is a contractor for Mahametro was using JCB at Manish Nagar (near Reliance Fresh) for excavation works when it hit an important underground cable.Immediately there was an alarm at the sub-station that the feeder had tripped so the team started patrolling immediately. Meanwhile, an onlooker informed SNDL about the damage and the team rushed to the spot and confirmed the damage to 11KV Jaidurga feeder.The mahametro workers present at the spot confirmed that, as in all previous instances, this excavation too was being undertaken without information to other utilities. The excavation workhad been stopped immediately then but the damage had already been done. It was learnt that more than 8 thousand consumers had been affected across Manish Nagar, Panthon society, Reliance Fresh, Prabhunagar, Lumbininagar,JaidurgaSociety 3, JaidurgaSociety 6, Krushinagar society,ManikPark,Jaihind society, Panchatara society, Santaji society due to this damage.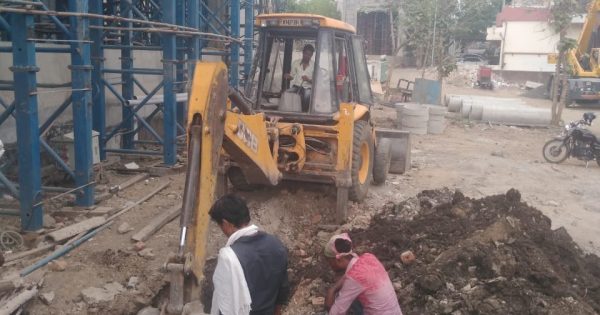 The team immediately called for more support to help in early restoration. The QRT team for SNDL arrived within no time and after considerable efforts made arrangements to backfeed the entire area in nearly 45 mins. After lot of persistence, metro arranged for temporary re-jointing of the damaged cable at around 4 PM in the evening, which is expected to be completed late in the night. It was important that the normal supply (by 11KV Jaidurga feeder) should be restored early because by late evening, the load on the feeder from where presently the supply has been backfeeded would start growing and might cause damage to even the other healthy supply.
It is important to note that when an underground cable is damaged in a densely populated location, it is very difficult to backfeed or 'borrow' load from other location especially during high-peak season such as what Vidarbha is experiencing now. Furthermore, the electricity department has to thus divert its teams from other development works to attend to such damages. SNDL has expressed great anguish for such negligence by agencies despite repeated requests by the franchisee alongside specific orders from competent authorities. Consumers should also take a note of this and not blame the electricity department alone in such scenarios. They should approach competent authorities and ensure that there should be a total stop on such uninformed excavations, at least during the current season.