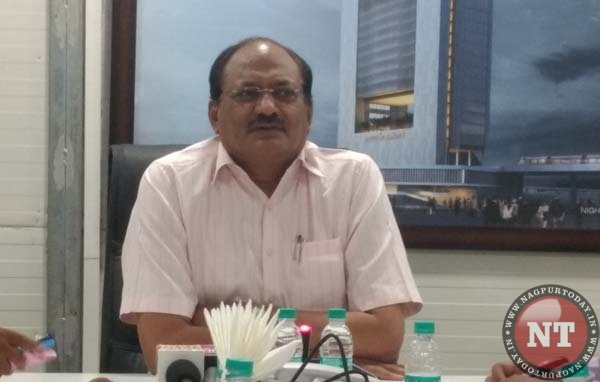 NAGPUR: Execution of Maha Metro work has been a challenge in project management and we have successfully met this test, said Dr Brijesh Dixit here on Wednesday. "We devised means to meet the challenge and these have helped us in putting the project work on fast track,'' he added. Dr Dixit was addressing an august gathering at Visvesvaraya National Institute of Technology (VNIT). Dr Dixit address was part of Prof Dr V G Bhide Memorial Lecture on `Thinking Big: Building Metro System in Nagpur – A Challenge in Management' organised at the Institute.
Projects in India tend to delay and more often than not remain incomplete. It is hence that Maha Metro took upon itself the task of completing Metro project not just well in time, but also ensuring that quality is not compromised in the process, he said adding that it is hence that the Organisation used platform like 5 Dimensional Building Information Modelling (5D BIM) for effective and faster completion of the Metro project.
Speaking at length on Maha Metro Nagpur project and city's transport-related issues, he lamented that only 10 % of the city population uses mass transport system. This is due to the ineffective transport system in place in Nagpur, he said and added that once Maha Metro project is completed, about 30 % of the citizens would use this service for commuting in city. This would prevent vehicular pollution to a great extent and help citizens to lead life in a pollution-free atmosphere, Dr Dixit added.
Speaking on the various unique initiatives being practiced by Maha Metro he said, the Organization has used solar power very effectively and has plans to put up solar panels over an area of 10 lakh square feet atop various Maha Metro installations and establishments. It has also involved 300 local firms and companies in its various works, he said. Underlining the importance of team work, Dr Dixit said that there is no winner in a losing team and no loser in a winning team. Once completed, Maha Metro Nagpur would change the landscape of Nagpur, he said and added that the state is also leading in country as far as Metro projects are concerned.
The Chairman, Board of Governors of VNIT Shri Vishram Jamdar and Institute Dean Dr P M Padole also addressed the gathering. VNIT's Dr Vilas Deshpande delivered introductory address. The event concluded with question-answer session. Dr Dixit was felicitated by the family members of Dr Bhide. The Lecture was well attended by prominent personalities, experts from various fields and students.