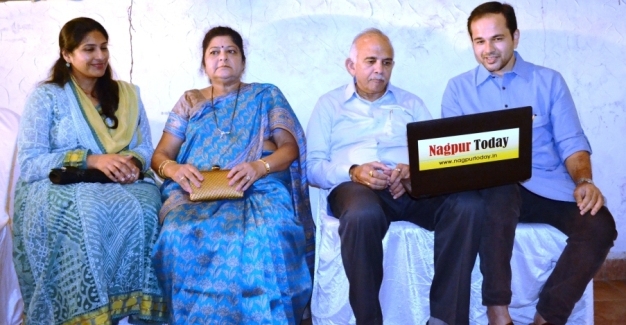 Nagpur News.
Madhuribai Deshmukh Awards for Women will be conferred upon different eminent personalities in a programme to be held on October 6 by HERD Foundation (Health Education Rural Development). The Awards programme marks the 61st Birthday of Roopatai Deshmukh. The Awards recognize the women for their contributions in various fields in the service of humanity. Noted actress Shabana Azmi will be chief guest and Pralhad Kakkar will be the guest of honour and would present the awards. The Function will be held at Hotel Centre Point.
A total of 11 Awards would be conferred upon the prominent personalities like the "Lifetime Achievement Award" to the late Jyotsna Darda posthumously for her outstanding contributions for the cause of women. The Jury for the awards programme include Justice V S Sirpurkar (Retired Judge of Supreme Court), Vijay Jawaharlal Darda, Rajya Sabha Member and Chairman, Lokmat Media Pvt Ltd, K K Pathak, Commissioner of Police, Shyam Wardhane, NMC Commissioner, Dr Sharad Nimbalkar, former Vice-Chancellor. The HERD Foundation was cofounded by Dr Amol Ranjeet Deshmukh and Dr Suchita Gupta Deshmukh in 2006 and the Chairman of the HERD Foundation is Ranjeet Deshmukh.
Roopatai Deshmukh carries forward the legacy of Madhuribai Deshmukh being the perfect administrator, who is backbone of not only this socio-political household but also the vastly spread development work undertaken by Ranjeet Deshmukh. These awards for recognizing women have been organized by Suchita, Roopatai's daughter-in-law , and are commemorating not only the success of the women who have been nominated but also acknowledging the contributions of these two women who have toed the line of this family and many other such women who, despite their contributions, get little acclaim.
The HERD concept is to work towards developing eco communities that will be a self-sufficient sustainable geographic area that benefit from focused initiatives in health, education and social and civic development. Creation of a large network of self-sustaining economically productive geographic regions will provide a platform for sustainable growth.