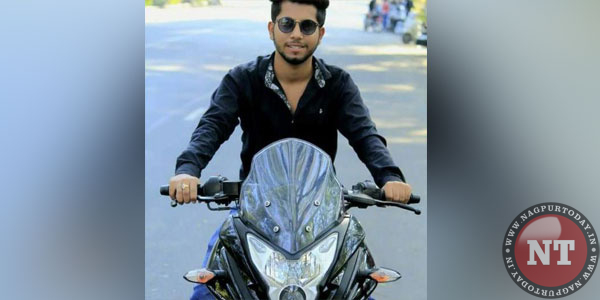 Nagpur: The psycho youth who stabbed a teenage girl repeatedly and injured her critically in the sensational incident in Laxmi Nagar on Sunday (July 1) has reportedly been arrested by Bajaj Nagar police from Badnera Railway Station on Tuesday, according to media reports. The accused went absconding and was hiding in a Mumbai suburb.
Police, through a social activist, forced the accused Rohit Manaohar Hemnani (21), a resident of Sindhi Colony, Khamla, to come to Nagpur and surrender top police. The accused while on way to Nagpur, was arrested by Bajaj Nagar police at Badnera Railway Station itself.
According to police, the girl Sweety ( name changed) and Rohit were friends since last two years. Sweety recently started distancing from Rohit which left him furious. Sweety was living at her uncle's (Mama) – Avinash Patne – home since childhood. House of Patne family is situated opposite Hotel Ashok near Aath Rasta Square, Laxmi Nagar. The family lives on first floor while Avinash's office is located on ground floor adjacent to SBI ATM.
Accused Rohit came to Patne's house at 8 pm on Sunday and inquired about Sweety. After seeing Rohit, Sweety refused to speak with him. Moreover, Avinash and other family members also asked him to leave the house. However, Rohit was not in a mood to relent. When Avinash came to his office where the accused again pleaded and said he just wants to talk with Sweety for five minutes. Avinash's wife Sarika was also present in the office.
Meanwhile, Sweety came to the office and reluctantly Avinash allowed them to talk even as he stood there and kept an eye on them. After five minutes talk, when Sweety turned down his request for an outing, the accused, in a fit of rage, whipped out a dagger and stabbed Sweety on chest and back. Avinash also sustained injury on his palm while trying to save Sweety. The accused Rohit then fled the spot on motorcycle.
According to Bajaj Nagar police, the accused, after an attempt to murder Sweety, fled to Mumbai. Special teams of Bajaj Nagar Police and Crime Branch also reached Mumbai on Tuesday evening to arrest the accused. Sources informed that a relative of the accused assured the police that he will help the police to apprehend the accused. The relatives also reached Mumbai on Tuesday and were persuading Rohit to surrender, sources claimed.