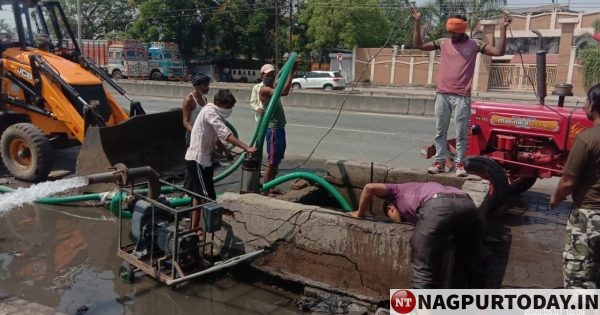 Nagpur: – Mr Sidhhesh Najpande, resident of Telecom Nagar was worried to see water flowing on road through a leakage. He thought during lockdown period and scorching summer heat how to stop the precious water flowing in to drain? Who will plug leakage? But to his surprise as soon as he lodged complaint in this regard very next day NMC-OCW Laxminagar zonal team started leakage repairing work and along with said leakage plugged almost 3 leakages on same line deploying its man force.
Similarly Adv. Deshpande from Pratap Nagar area complained of 'yellowish/greenish' colour water at his residence since last two days. The Laxminagar team after alert immediately visited at Adv Deshpande's home took samples of water and sent it for testing While Mr Meshram from Parvati Nagar area complained of No water since last few days at his residence only.
Despite double threats of 'Covid-19'- corona virus as well as scorching summer heat (almost above 44 degree celcius) across city, but there are Water Heroes who are engaged in resolving consumers water related complaints as well as plugging abruptly developed leakages on pipelines round-the-clock even during lockdown period.
@ Mr Meshrams place despite the area has been sealed following Corona death, plumber and labourers visited his place identified and cleared the chokage in pipeline and Jawdekar started getting water very next day..
Siddhesh Najpande & Adv Deshpande appreciated efforts of NMC-OCW in such situation that they witnessed NMC-OCW labourers as well as technical team members working in scorching summer heat and amidst threat of Corona virus right on road just few hours after he lodged complaint. The team worked for almos ¾ days …labourers opened the pit , supervisor , technical team plugged the leakage. All were wearing safety mask and other gadgets. Along with plugging two more leakages , they have also resolved polluted water complaint, he added.
Similarly recently a major leakage on Shanti Nagar feeder line was plugged by NMC-OCW without affecting any water supply. Normally 12 –hour shutdown was required to do the job, however NMC-OCW technical team completed it during lean period working right in scorching summer heat. Similarly many such leakages were plugged; defunct valves were replaced or repaired without affected water supply.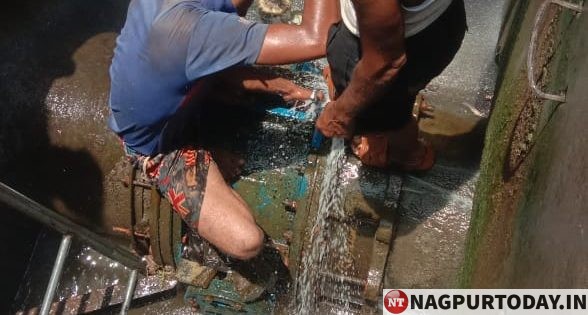 Binaki ESR sluice valve that has developed snag has been removed working overnight by the technica team, leakage on 700 mm dia main distribution line at Prajapati Nagar was plugged while a major leakage opposite Mayo Hospital was also plugged without affecting supply of Mayo Hospital where most of Covid-19 patients have been isolated and getting treatment .
Since the lockdown has started , NMC-OCW have plugged almost 728 to 730 major & minor leakages that developed in the system and that too with no effect on water supply to localities. OCW main line technical team, OCW zonal technical teams and OCW maintenance team are round the clock alert and are working in full swing to plug major and minor leakages that develops in system.
It may be mentioned here Since lockdown began in city, NMC-OCW attended and resolved almost 2495 to 2500 complaints that means on an average 70 to 75 complaints per day across city.
Sushant Sourabh of OCW Technical Team said, "We all technical team members in OCW are round-the clock working for maintainance of major feeders lines as well as plugging the leakages that abruptly developed on the feeder lines. These comes under essential services so we feel proud that we also are contributing and working to provide safe and clean water at every tap so that people of Nagpur to remain safe at their home. Our family members understand the importance of our work and so support us in performing it, he added.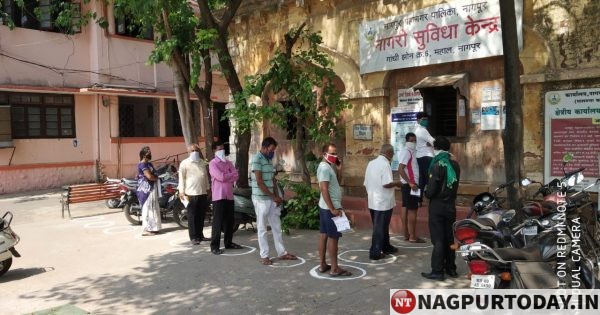 Even NMC-OCW zonal teams deployed for maintenance and leakage repairing works are working in co-ordination with this main technical team in resolving no-water or polluted water complaints of consumers.
NMC SE Shweta Banarji & OCW CEO Sanjoy Roy & Director O& M , Mr Rajesh Kalra who are leading the technical teams engaged in all complaints resolving as well as leakage plugging work from front has thanked Nagpurians for their co-operation and appealed that NMC-OCW water warriors stayed at work to provide clean and safe drinking water at your taps right at your home, to resolve your complaints with only request Nagpurians to stay at your home with family to keep the city and the nation safe from the pandemic .
NMC-OCW maintains social distancing @ payment counter.
Along with online e-bill and SMS update about water bills on mobile, The Nagpur Municipal Corporation and Orange City Water has now opened all its Customers Service Centre across city with following all measures like maintaining social distancing and other safety measures in wake of Corona pandemic.
The e-bill as well as SMS alert about bills has been issued on average basis to all consumers. Consumers can check it on OCW website www.ocwindia.com. Now Consumer can pay bills by cash, cheque or swipe cards at CCCs or by digital Payment facilities like PayTM at Online bill portal @www.ocwindia.com and Nagpur Water App, etc.