Nagpur: She travels 60 kms daily by bus right since she was in class V. Now she is pursuing her graduation. In the meantime she saw many changes, however, one thing remained a constant trouble for all those years – how men used to behave inappropriately with girls throughout her journey, from pushing girls on the pretext of getting out of rush in the bus, which sometimes also involved touching indecently.
Ruchita wanted to scream her ordeal for so long. And she finally got her chance in first of its kind initiative '#Desi MeToo' floated out by Yuvak Kranti Dal, Nagpur, Women's Cell CP and Berar College where girls and women from all age groups shared their accounts of sexual harassment in Dhanwate Sabhagruha, Shankar Nagar on Tuesday.
However Ruchita was not an exception. Around 20 dresses of the victims along with their stories labeled on it, were put on display. Many such participants spoke about their nightmares with the gathering on this occasion.
17 year-old Abhishek who also participated in the programme says that it is boys' responsibility to help their sisters and friends in such hard times and provide them the much needed support in order to let them speak against their tormentors.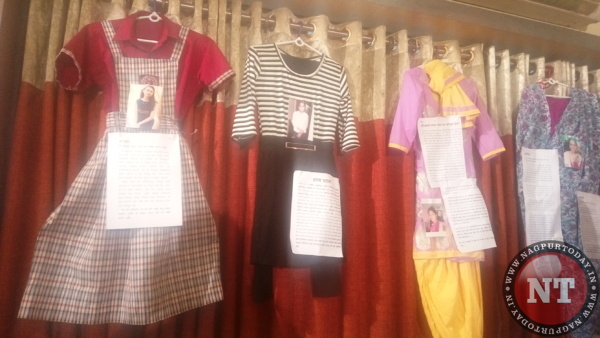 While interacting with audience first year student Payal stressed that, guys often see us as a object which has been put on display, they call us by names, follow us and what society do? They just enjoy the show.
"Why can't society stand by our side? Why they always find a way to blame girls?" she lamented on this occasion.
"Nazar Mardo Ki Kharab Hai, Our Ghughat Aurato Ko Pehanaya Jata Hai," said Farheen while addressing the hypocrisy of society with the onset of her speech which fetched tremendous applause from the audience. She also highlighted gender discrimination she faced in her home since childhood.
Later the distress among to audience ran high when they learnt that, Ankita has been through such situations as many as 8 times in her life for being overweight.
At the end, Snehal a professional biker advised the victims that, no one has any right to show you down and being a strong woman which you guys are, you should never give away that right to anyone.
"It's only you who can save you. It's only you who can stand for yourself. No one else will stand for you, unless you stand for yourself," she asserted to girls on this occasion.
Kunal, a volunteer of Yuvak Kranti Dal mentioned that 80% of girls refused to take part in this initiative due to fear of defamation.
Dr Rashmi Paraskar, Milind Barahate, Dr Swati Dharmadhikari, Rubina Patel and Sandeep Barve were present on the dais who also shared their point of views.
– Shubham Nagdeve