Nagpur: The financial condition of the Nagpur Municipal Corporation in reality and on paper. Neither khaki nor khadi are in are uniting to handle this situation this, just wasting time. Both (Khaki and Khadi) are pressuring to borrow loans. One such proposal is scheduled for tomorrow with the discussion in the General Body meeting of the NMC. However, according to the demand of the time the proposal should not have been brought into consideration.
Union Surface Transport Minister Nitin Gadkari had convened an important meeting of the NMC officials of the ruling party to take stock of the development work of the city. In this meeting, the office-bearers of the ruling party corporators informed about development halted due to economic constraints. Angry over the whole affair Gadkari by had chided NMC officials and warned them to complete the proposed, incomplete and stuck work keeping in view the Lok Sabha elections next year. He had asked them to take the loan complete the all important works.
After the stern warning, the NMC administration reviewed an old loan which was going on this year, and was able to take forward the loan of 200 crore, which was approved by the Standing Committee. Now further action will be taken after clearance in the NMC meeting.
Now after the loan of Rs 200 crore, now the Municipal Administration is taking up the proposal of the power division chief of the Municipal Corporation to fulfill the requirement of electricity and 20 crore loans to bring the proposal in tomorrow's general meeting. According to the proposal, after the approval of the general body, the state government will provide 25 crore loan to the NMC for the sole purpose of removing and transferring the obstructive electric pole on the road. Out of which 5 crores will be waived and 20 crores will be refunded. This loan will cover the state government's monthly instalments of GIST.
Till now the monthly funds coming from the GIST through the State Government has been spent on the basis of importance of the jurisdiction of Municipal Administration. But through the GIST, the entire fund of the said loan will be spent only for the proposed works of the Department of Electricity, and such fear is expressed in the MC's headquarter.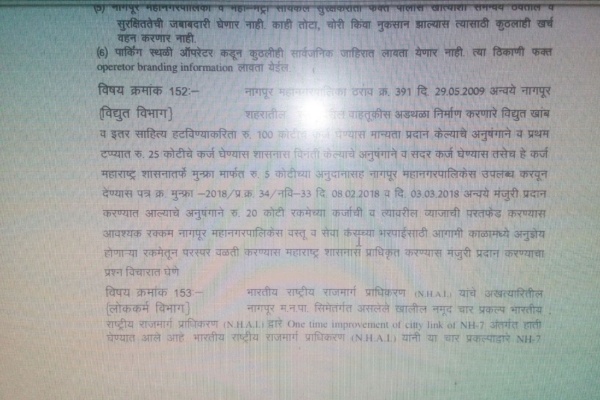 Review of the works of the power department
This department is outside the purview of general life and corporators. If the activities of this department are reviewed in depth, then the case of purchase LED lights may by workshop division can come to light. It has been seen so far that many major files of this department have been prepared, the head of the department, has been roaming from their from depot to depot to get it approved. This shows that some thing is wrong.