Winning Team to get 1.lakh prize, most promising Projects would have access to initial funding of Rs.5 lakh.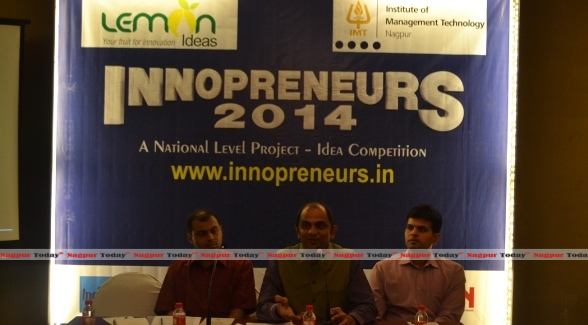 Nagpur News.
Nagpur city will witness a hunt for potential innovative entrepreneurs who would become change makers of tomorrow. A first ever National level contest being  organized in Central India where students as well as professionals are being encouraged to pitch their projects and ideas that have potential to enhance the life. The event is jointly organized by Lemon Ideas and Institute of Management Technology ( IMT)Nagpur .
Speaking with Nagpur Today, Deepak Maneria, Chief  Idea Farmer Officer, Lemon Ideas and a former entrepreneur himself  who is known in Nagpur for promoting and mentoring young  aspiring entrepreneurs explained the idea behind  Innopreneurs 2014 and said, it aims to bring out the hidden talent from individuals that usually go unnoticed. More over this would be an attempt to encourage start-ups culture in second tier cities in central India.
Maneria further added that it will emerge as a platform that gives chance to innovative Ideas that may sound common, stupid, crazy but have potential to create a difference for people in general. Rather than just being a business plan competition, Innopreneurs aims to identify promising ideas, nurture them and thereby promote entrepreneurship as an alternative to routine employment. It is a hunt for potential ideas.
The finals will be held at IMT Nagpur on Saturday, 8th March 2014.
The winning teams will get prize money worth Rs. 1 lakh and opportunities to be mentored by Lemon Ideas, besides most promising Projects/Ideas would have access to initial seed funding of Rs.5 lakh. The mentoring support would be between 6 months to 12 months depending upon the need.
The entries in the competition should be having a working model that has been piloted, simulated or experimented. Entries are welcome in Movie Format, PPTs, Pictures Photos, Project File, Documents, etc. Ideas that have novelty with wide span of impact and commercial viability will get weight age during evaluation. Ideas can be either a product or a service model (software/ app or new business model or any product). Contest themes include ideas that can have an impact on society and education among others. Distinguished members from both academia and industry will act as jury for selecting the best ideas. Leading entrepreneurs and investors are expected to grace the occasion on 8th March at IMT Nagpur
Even though, entries are welcome from across the country, preliminary rounds of the competition is being held at three Central India cities — Nagpur, Indore and Bhilai. 500 participants are expected from more than hundred colleges and organizations. Students from any educational background are free to participate in the competition.