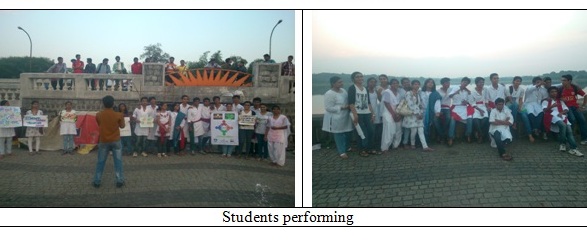 Nagpur News.
Today when the present scenario of society is turning towards women safety and empowerment, students of Laxminarayan Institute of Technology contributed handful in spreading the message of empowering women. The students under the guidance of Prof. T.B. Chahande Director-in-charge and encouraging teaching staff realized the social responsibility that we as educated masses must possess and create awareness among the public. The medium for creating awareness among the general masses of society was the Street Play, which was organized at Futala on the evening of 19th October 2013. The theme of the play was "Women Empowerment".
The public came forward and witnessed the students appeal and efforts to spread their word among all. The play was based over general incident from village wherein women power is being neglected. The story line of play was focused on encouraging women to raise voice against the evil elements of society who neglect or try to suppress the women power. The importance of rights that women posses and the change they can bring was presented through their importance in election through the play. So, all the masses surrounding gathered to listen the word and got engrossed. The public enthusiastically watched the play and was amused by the efforts of the students which were indicated by the big applause and appreciation from them.
We believe that the woman empowerment is not the issue but the awareness about this empowerment is essential and for this very purpose the street play was enacted.
Student volunteers from ISSAC, a student committee of college have taken great efforts in organizing the street play under the Tech-fest initiative. LIT management encourages students for such activities to benefit them in addition to academic pursuit.