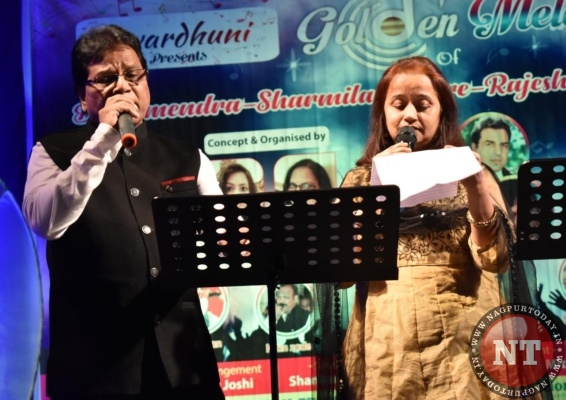 Nagpur: A melenge of evergreen songs from the golden era of Bollywood drew the audience into an old world charm at Sai Sabhagruh on Saturday, when the artists performed to mesmerizing songs at Swardhuni presents Golden Melodies of Dharmendra- Sharmila Tagore- Rajesh Khanna
A melodious musical event featured many classical songs on the theme of Dharmendra- Sharmila Tagore- Rajesh Khanna like 'Jis Gali Main', 'Hum the jinke sahare', 'Jhilmil sitaron ka aangan hoga', 'Gulabi Aakhe', 'Acha toh hum chalte hai', and many more.
The yesteryears' songs created a lasting impact in the audience who were swooned into the good olden days of lilting melodies. Everyone enjoyed the show to the fullest and the listeners soon joined the performs to croon the heartwarming numbers.
ACP Ashok Baghul was the special guest for the night along with Vaishali Patil, Irfan Khan, Nitin Zade, Purva Salpekar, Gopal Iyer, Swapnil Gode, Shailaja Bade, and Anil Pilley. The event was organized by Anshu Buty and Vandana Deshbhratar.