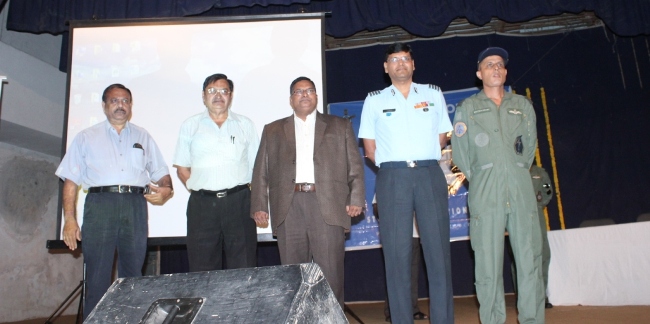 The Indian Air Force, with an aim to enthuse inspiration and to provide an ecstatic feel of IAF career, launched a 'Students Interaction Drive' named "Guardians of the Skies" for the students at Dhanwate National College on  October 4. The interaction drive provided guidance on career opportunities in the IAF. The drive was flagged off from Delhi on September 16 2013 covering various cities of four states namely Gwalior, Indore, Nasik, Mumbai, Pune, Solapur, Hyderabad, Adilabad and culminated today in Nagpur.  Pro-Vice-Chancellor, RTMNU, Mahesh Yenkie was the Chief Guest of the Programme.
Dhanwate College Hall was packed with students and youngsters who had come to feel the pride of IAF and interact with the Indian Air Force Flying Officers.
In his inaugural address, Pro- VC Mahesh Yenkie said, "Majority of the population in our country is between the age group of 20 to 30. This human resource is the strength of the nation. We have to plan our education system and other resources in such a way that our youth will also be in a position to extend their knowledge globally."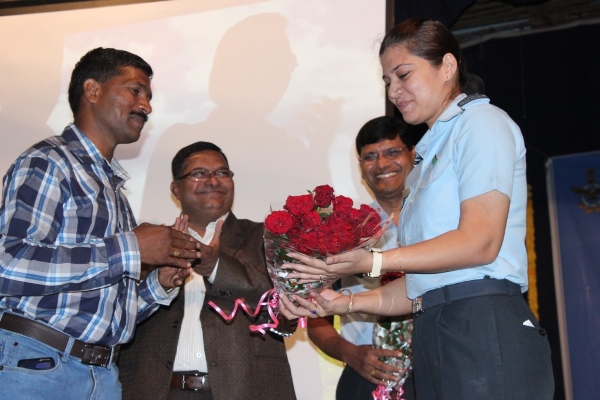 A presentation on the facet of Air Force was presented by Squadron Leader Pooja Thakur. Interacting with the enthusiasts, she said, "we are here to tell you about life with Indian Air Force. She also showed the students how the fourth largest Air Force of the world carries out disaster relief operations. She said, in 81 years, IAF has developed remarkable achievements in technology, fighting capability, sports, adventure activities and many other fields.
A short documentary was shown on how an operation is carried out in IAF,  how pilots, air traffic control staff and ground duty staff come together in just one telephone call and an effective operation is launched to achieve the goal given to the squadron. Later in a question answer session, students' queries were answered by Flying Officers.
"Youngsters must join Indian Air Force (IAF) for passion. There are many jobs where there are greater chances of earning money but the quality of life the IAF offers cannot be found in any other job," said the Flight Lieutenants while answering questions put up by students.
For this, a slide show and documentaries were shown to the students showcasing the life, career prospects and the way to join the force, followed by a questionnaire.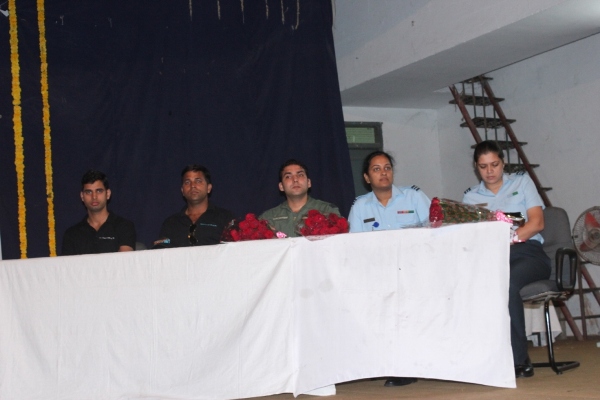 Two adventure activities — parasailing and hang gliding were held for 40 students  at Sonegaon in the afternoon.
Group Captain G.J Rao,  Pro VC Mahesh Yenkie,  Principal Baban Taywade,  Student Welfare Officer Arun Patil, Squadron Leader Pooja Thakur, Squadron Leader Richa Mantri, Squadron Leader Shubhika Arora , Flight Lieutenant Manish and Flight Lieutenant Kapil Chaudhary were present.