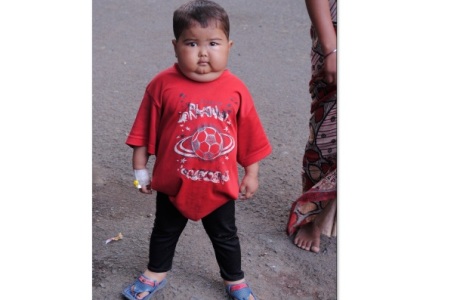 Nagpur News.
This Diwali when many of us are busy for festivities tonight, three years old Devendra Tandon excruciates in pain at child's ward no. 7 at Mayo hospital. The agony has been with him for a couple of months. The painful course he has been going through emerged from a rare kidney disorder. More painful is the fact that his father could not help much but to rush helplessly to arrange money for  the injections doctors have prescribed as must to cure him from the disease.
Just four months back, three years old Devendra Tandon was all a happy child with normal growth traits. Now, his body has all swollen alarmingly. Doctors say it's a rare kidney disorder that could be treated in due course of time. The treatment is bit costly for his father who works as a labour at saw mill.  It requires some doses of injections for over few days. Each injection costs Rs 3000 per day, which is quite big before the miniscule earning of his father Narendra Tandon who too remained without work for some time due to his full time attendance at the hospital.  Narendra resides in a rented hutment at Bharat Nagar along with his wife and another son, younger than Devendra.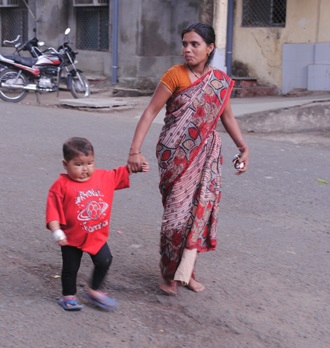 "I have sold my house and all the savings went into the treatment. Doctors say that water accumulated in his various body parts. Even if a slight pierce of injection is made into his body, water keeps coming out from that area," informed Narendra who looks anxious and worried over his child's deteriorating health.
He told Nagpur Today, "It all started with his swollen eyes just 4 months back. Gradually entire body started inflating like a balloon…His face, stomach, legs, hands every part swelled beyond proportion. The moment he stands up, it becomes too painful for him and he cannot bear the pain. He is however having regular diet but the pain is such that he can't withstand. I am helpless as I have no money as all the savings of Rs 50-60 thousand are already gone into treatment."
Narendra said doctors told him that the swelling will be done away with the injection doses per day, each costing Rs 3000. Atleast 5 injections are required for him to be cured, he said.
Nagpur Today Appeals
There's no celebration bigger than giving a ray of hope and light of life to someone who cries for the need. This Diwali let's try to do our bit and bring happiness in the lives of many such suffering children who remained ignored for the want of treatment. Devendra needs your help to  make him stand hale and hearty…He is admitted to ward no. 7 at Mayo Hospital and his father Narendra can be reached at 8975143363.
Help someone to smile and spread the light of happiness….
Is Diwali Aao Ek Deep Jalayen…Nanhe Devendra Ka Jeevan mein Ummedon ki Roshni Laayen…
Warm Diwali greetings from Nagpur Today.