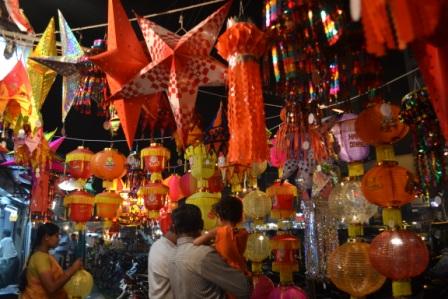 Nagpur Today Special: Diwali is just on the doorstep and people of the city have started preparations for it. People are busy in buying new cloths, accessories, eatables. But, most importantly, they are busy in searching for new ideas to decorate their homes. New wall shades, curtains, candles, diyas, lanterns and much more. People are ready to experiment with their home decor this Diwali.
The festivity of Diwali is incomplete without 'Diwali Home Decoration'. The time of the year is here when we light up our lives with the lamps of goodness winning over the evil and sharing sweets of a year's hard work and toil. This Diwali season, let us make our homes more welcoming and fill in the cheerful atmosphere with Diwali home decoration items. Most of the people have already prepared shopping list for Diwali celebration. Weeks or months before the
Diwali festival, everyone starts decorating, designing and decking up their homes. There are many traditional decorative items used to redecorate homes on Diwali.
People these days, mostly are choosing red and white theme with golden decoration but, colours like parrot green, sun shine yellow, light violet, magenta also suit your walls. Different texture over walls makes them look more appreciable and appealing. There are many tips people use to make their home look beautiful and different. She further said, "Choose or explore for rich
colour and patterns for Diwali home decoration."
Bandanwars or torans are traditional door hangings which some use for good luck charm, strip of embroidered cloth and chimes to make your doors ring in the festive frivolity. Hang little bells on your doors which are decorative and this makes your doors ring in new guests into the house.Using old clothes or laces on torans would attract the guests leaving them astonished.
Recycling brings out a whole new meaning into the festive season. The whole family gets together to make decorative Diwali confetti and this brings in a joyous atmosphere into the household. Spend Diwali together with your family and let your creativity get the best of you while making your home look pleasant and inviting.
DECORATION TIPS:
There is no doubt that there are enormous ideas to decorate your home with light and new ideas of course! But, what one has to keep in mind is majorly about the budget. The market has various options opened for people to choose the right decorative piece for their home this Diwali.
Use bandanwars, a traditional Diwali decorative to adore your entrance doors. Also put up door hanging embellished with embroidery, mirrors and bells. Lift your entrance by hanging paper lanterns from the door arch. Also place earthen diyas on the floor and illuminate your facade.
Hang a bell outside your door and let your guests have some fun. Let them ring it instead of the usual electric bell. Candles is another thing that can be use innovatively to decorate the house. Floating candles, hanging candles, there are many different size and shapes available at the store.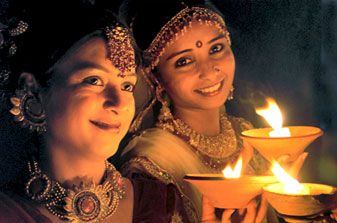 Candles can also be used in rangolis, used inside the house where diyas are avoided due o the fear of stains. Rangolis made of rice, flour paste, coloured chalk, and crushed limestones are a great way to enhance the beauty of your homes during Diwali. They are decorated with vermillion powder,flowers, and diyas, candles, gliters. Some of the common rangoli themes used on Diwali are holy symbols like "Mangal Kalash", "Swastikaa", "Shree", and a lighted deepak.and this season trend is peacocks.
One can even paint the diya using oil paint, gliters or purchase the decorated diyas. Decorate the Arti thali using rice, threads, chart papers, news papers, viberant colours, laces, cloth. Decorate the pooja area with a theme, or even play with colours to make this a bit more decorative.
Diwali is the best time to express your creativity by adorning your home with decorative rangolis, puja thalis, and handcrafted items. With adopting innovative and new ideas, you can give an elegant look to your home with a range of bright and beautiful Diwali decorations.
FASHION TIPS THIS DIWALI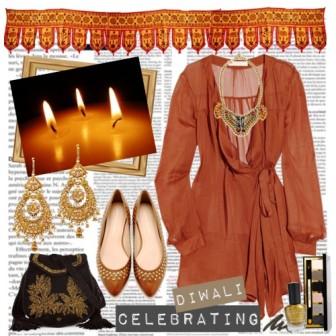 With eternally changing fashion trends, Indian Clothing has also undergone a sea change in terms of styling. The latest Designer lehanga choli are now made in various styles, this season favourite is 'kalidaar lehenga'. Prints are very much in fashion and very less or no embroidery on lehenga. Choli is styled in numerous ways such as Backless cholis in attractive colours with colourful strings, asymmetrical Choli, etc. If you looking for short lehanga you can also style
yourself the way Katrina did in chikni chameli.
If you are wearing kurtis, you can go for anarkali style kurtis with churidars in vibrant colors like Crimson, scarlet, mustard, mint green, citrus, and other hues to sum up the dynamism of your look, anarkali kurtis comes in different styles like asymmetrical hemline. Choose a border which is embroidered or brocaded. The whole kurti can be kept modest but, the border should be embellished. If you are wearing a natural colour kurti pair it up with colourful dupatta.
If you are wearing a sari you can embellish it with sequence or zari or you can also opt for kantha embroidery to shadow work, luxurious mothifs and plentiful of drama for the night. If you are looking for a modest twist you can go for a pre-draped sari or a jersey sari in color blocking.
Pair up your dress with mojaries or good high heels. And jewelry could be long earrings a broad kada and bangles in one hand and a chunky watch on the other. You can also wear kada style like anklet in one foot. Line your eyes with black liner and strong brows. Matte lip is best suited for the look. You can also try accessorising your hair with jewelry in different style.
By Ankita Agrawal