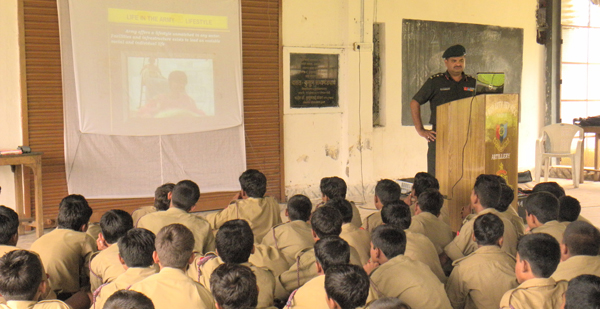 Col HS Krishna Kumar, Director Recruiting, Army Recruiting Office, Nagpur delivered a lecture on 'Areas of Joining the Army' and 'Life in Army as a Cadet' to NCC Cadets during Annual training camp of NCC conducted by 2 Mah Arty Bn NCC at Ordinance Factory Ambajhari on 05 Jul 2013.
The cadets stayed in Army tents in typical Army unit atmosphere with rigorous training programme. The 389 Cadets from Senior and Junior division were provided with military training like Firing, Map reading, Battle Craft, Art Craft, Drill Disaster Management, Social Activities – Tree Plantation, Blood Donation etc. In addition, Leadership Capsule was also included in the curriculum making it a Perfect Basic Leadership Camp.
It is a matter of pride and great honour that 2 Mah Arty Bn NCC under the leadership of Commanding Officer Colonel Sunil Karande has been given the responsibility on behalf of NCC Group Headquarter Nagpur to conduct this important camp. This 10 days camp conducted from 29 Jun 2013 at Ambajhari on the training grounds of Ordinance Factory.
NCC with the motto of "Unity and Discipline" has contributed significantly to the building of national character by inculcating leadership qualities, self reliance, a sense of camaraderie and care for fellow citizens. NCC activities are focused on harnessing the youth into potential leaders by instilling in the Cadets qualities like nationalism, patriotism, discipline, team spirit, spirit de corps and leadership. In order to achieve the above there are various NCC camps conducted. Annual Training Camp is one such important Camp.