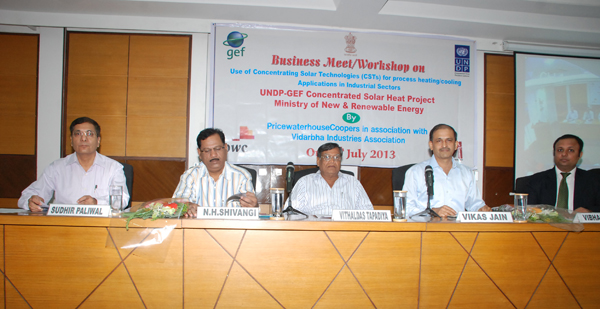 Nagpur. July 10. We must all ensure that a we leave a clean and pure environmental surroundings  for the next generation said Shivangi Regional Officer Maharashtra State Pollution Control Board in his inaugural address at the Workshop on "Market Development of Concentrating Technologies [CST's]  for process Heating  & Cooling Applications in the Industrial sector'  at VIA Hall this morning.
N R Shivangi was the chief guest at the workshop organized by VIA and Pricewaterhouse Coopers Pvt. Ltd along with Ministry of New & Renewable Energy with support from UNDP.  Elaborating on the subject he said MPCB supported and lauded the efforts and initiatives made by VIA Pwc and the Ministry of Non Renewable Energy to organize such programmes. This will create awareness amongst the industrialists but he said the efforts must be exerted in the right direction so that use of Renewable Energy  Technology increases.   We owe a lot to our next generation and it is the obligation of every citizen to ensure that a clean and pollution free atmosphere is created and maintained for the coming generations. He added that though cost of renewable energy is high it should not be only deciding factor behind investment decisions.
Vikas Jain Joint Director Industries speaking on the occasion said that there are numerous possibilities for use of renewable energy in Vidarbha, but one must be careful about what is feasible in terms of need and problems of Vidarbha. Further, it is important to keep focus on Vidarbha as a region and a road map for future implementation should be clear.
Sudhir Paliwal Chairman of VIA Science & Technology Forum in his address said that there have been many initiatives for Vidarbha region and whenever given an opportunity the region has excelled. The Cluster scheme of Ministry of Food Processing where the first Food Park of the country was established t Buti Bori Industrial area due to the efforts of VIA, MADC and MIDC. He said that he believes that similar schemes of of different Government Departments, associations like VIA have a crucial role to play and should be made the Nodal point in order to make such schemes a grand success.
Earlier, Vithaldas Tapadiya Vice President VIA and Vibhas Garg Senior Manager GRID Energy & Utilities PwC offered floral welcome to Shivangi and Jain respectively. Garg also proposed a vote of thanks.
This was followed by a technical session in which presentations were made by various manufacturers and technology providers. Vibash Garg of PwC spoke on promoting solar thermal for increasing penetration and replication in India supported by video presentation of "The Indian Success stories " for use of solar thermal in industry was highly informative and educative.
The technical session was followed by a very interesting question answer session. Officials of Pwc will be available for one to one interaction today Thursday 11th July. Interested industrialists can contact VIA on 25661211 for appointment.