Nagpur: Ever since MIHAN has been conceptualized in Nagpur, there has been a significant demand for international level of hospitality in the entire Nagpur metro region, thanks to slew of companies functional in Mihan along with happening International cricket stadium at Jamtha. To tap the new born city's hospitality demand, the latest entry is Le Meridien, a proud 5 Star hotel of  internationally famed Starwood Hotel. Says Shiv Bose, the enthusiastic G.M. of Le Meridien, Nagpur, " I am passionate about Nagpur. I expected something very different, a small 'tier two town' but what I saw was amazing! It was love at first sight." We have known the place as Sun and Sand earlier.  It had been the first truly 5 star project to come to Nagpur in the vicinity of MIHAN,  but MIHAN did not take off as scheduled and neither did the hotel. Then international brand Starwood Hotels came into the picture and took the decision of turning it into Le Meridien, with all the international level specifications that the global brand entails.
Not only have they enhanced the look and feel of the structure, but the food and the hospitality standards have also been refreshed.
The change begins with the Lobby, which they prefer to call the 'Hub'. Because they want it to be a place humming with activity.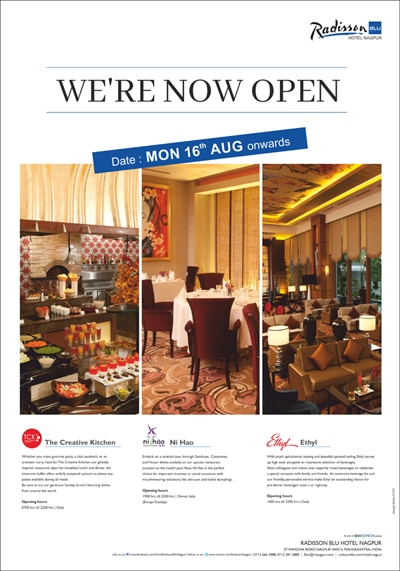 The old Spartan look has given way to cozy seating, deliberately arranged in an asymmetric pattern, an interesting ceiling, new wall papers and art on the walls. There will be coffee and croissants available right here very soon.
As Mayur Deshpande, Director of Sales tells us the Meridien chain of hotels, begun by France Airlines for its customers world wide, lays a lot of emphasis on pandering to your senses – all of them. Sight, sound, smell and physical comfort.
All Meridien 'hubs' world wide have the same perfume used in air fresheners, play the same music and display photographs of well known Travel photographer Jimmy Cohrssen through cable TV. Music played is arranged by musicians Nouvelle Vague and the 'key cards' displayed on the wall are designed by artist Mentalklinik.
"We want our customers to associate Meridien instantly with Creativity and Art" says Mayur.
As the young and dynamic General Manager Shiv explains " the art work for Nagpur has been designed with the unique features of the city in mind. Nagpur is the centre of India, the very heart, so it has to be a beautiful space! The round art on the ceiling depicts this space… a galaxy with a shining, vibrant epi centre or Holon."
There is another hub on the second floor exclusive for guests occupying suites and special rooms. The huge facing wall extending from this floor all the way till the top has a 'tree of lights' depicting MIHAN.
The rooms are specially designed too – easily the biggest among all hotels of the city, extending in size from 371 sq. feet to 1000 of the suites. Each room has the signature Meridien bed, something you can sink into and enjoy the best sleep of your life. You see the theme of art and creativity in the rooms too.
But the biggest change they are offering is in tempting your taste buds… they are offering a wonderful fusion cuisine where French and continental food marries Nagpur 'specials'. Look forward to croissants stuffed with Saoji chicken and crepes that have poha-tarri in them. They are offering other Maharashtrian specialties like Malwani fish curry too. (We just want to offer a note of caution here – we Nagpuris are fanatic about our food, we do not care for changes and variations too much!)
But the restaurants are already  seeing an increased foot fall with last month's billing exceeding the previous months' ( when it was with old management) by 30 to 40%.
"We are just warming up to Nagpur and enjoying the open-arms welcome we have received. A number of 'Thank you' Nagpur packages are on offer. There are special 'wake-up' drinks; 'smart cards' for a smart city that is bound to grow by leaps and bounds.
This privilege card, which you avail for just Rs. 7,000/ per annum will offer you exciting discounts on food and other benefits.
With Dubai airways starting flights direct from Nagpur to Doha soon and Aithat airways also coming soon Nagpur airport is going to buzz with activity.
Corporate giants like Amazon and Reliance coming to MIHAN-Butibori is also going to augment the business potential.
In many ways, Meridien is going to be in a win-win situation: in the right place at the right time. If they keep up their enthusiasm for pleasing Nagpurians, they are sure to reap rich dividends.
– Sunita Mudliyar