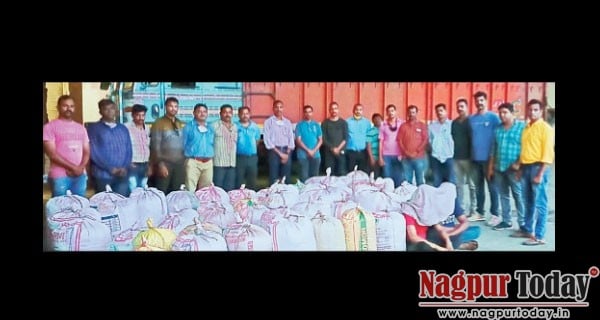 Nagpur: LOCAL Crime Branch of Nagpur Rural police seized 1,104 kg of Ganja (Marijuana) worth Rs 1.10 crore from a truck packed systematically in 40 gunny bags and concealed between 354 bags of coffee beans. The truck driver and cleaner were arrested and handed-over to Butibori police for further investigation. The accused have been identified as driver Rohit Lakhan Jaiswal (25), a resident of Kathara village, Tehsil – Gunnur, District – Panna, Madhya Pradesh and cleaner Sonu Kawarsingh Chavan (31), a resident of Devsar village, District – Bhivani, Haryana.
Acting on a tip-off, the LCB team stopped the truck (RJ27/GA-8804) near Butibori on Saturday night. The contraband was packed neatly in the gunnay bags and concealed between bags of coffee beans. On thorough examination, the police discovered 40 bags containing Ganja. The consignment was loanded at Khammam in Telangana and likely to be delivered in Punjab.
Investigation revealed that the driver and cleaner were indulged in the smuggling in connivance of Telangana based smuggler. After loading the contraband, the smuggler informs the driver on mobile phone about delivery location the next day, said a police official. An offence under Sections 20, 22, 29 of Narcotic Drugs and Psychotropic Substances Act. The cops are checking crime records of the accused persons.
Under the guidance of Superintendent of Police (SP) Rakesh Ola, Addl SP Rahul Maknikar, the arrest was made by Police Inspector Anil Jittawar, APIs Rajiv Karmalwar, Jitendra Wairagade, PSI Javed Sheikh, Gajendra Choudhary, Mahesh Jadhav, Narendra Patle, Rama Aade, Satyasheel Kothare, Rajesh Rewatkar, Ashish Mungale, Kishore Wankhede, Mahesh Bisne, Amrut Kinge, Rohan Dakhore, Sahebrao Bahale, Ashutosh Lanjewar and others.