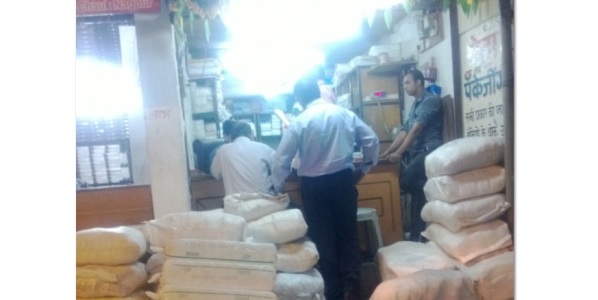 Nagpur News.
Under the guidance of Municipal Commissioner Shyam Wardhane and Additional Dy. Municipal Commissioner Pramod Bhusari , LBT department lead by Assistant Commissioner Mahesh Dhamecha, LBT officers Yaday Jambhulakar, Rajesh Meshram and LBT Inspectors Ulhas Motghare, Datta Wankhede, Dnyaneshwar Dhote, Nitin Sakore, Ramesh Padghan, Jitendra Tomar, Vijay Chetnani and drivers Shinde, Tandulkar , Pande and Raju Sonekar made LBT search at 3 places in Itwari and Jagnath Budhwari area.
At Jagnath Budhwari, near Bharat Mata Chowk, search was made at Neha Packaging. It was seen that no Purchase Register was available, no current sale book was available at the shop though at  the same day the dealer have received 28 packages of goods weighing 840 Kg of packaging material , from outside Nagpur. Further it was seen that the dealer is having undisclosed godown near Bharat Mata Chowk in the house of Shri Vijay Sharma, where 142 packages of packaging material was found. No LBT payments were made so far. The detailed investigation will be done and LBT liability will be fixed.
Searches were made at Old Bhandara road , Itwari , Khapri Pura area at the dealers places of Chandan Toys and Mayur Novelties. The dealer Chandan toys have not maintained any sale bills, Purchase register was not uptodate, part LBT payments were made, which were too less as compared the stocks available. There were China toys goods at the shop. However authentic purchase bills were not available. The dealers have also not registered the godown. It is likely that the valuation of goods shown is too less as compared to its actual prices.
The dealer Mayur Novelties has also not maintained any record of purchase and sales bills.
During the visits at the dealers it is seen that Purchase register is not being maintained and all purchase bills are not recorded in purchase register. As per LBT rules every dealer is liable to maintain purchase register as per Rule 19 for all purchases and pay LBT. Further it is mandatory to issue bills as per Rule 22 to the customers, with LBT number printed on the sale bills. All the dealers/customers are appealed to ensure the LBT number printed bills from the sellers to avoid their LBT payment liability as per Rule 20.