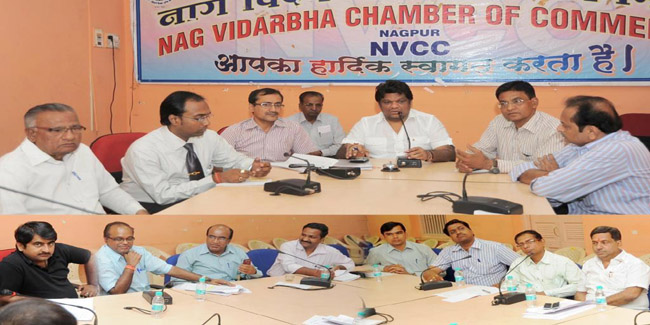 Nagpur News: Nag Vidarbha Chamber of Commerce organized a joint meeting on 19th March, 2013 of President & Secretary of various Taxes Bar Associations at the Meeting Hall of the Chamber to have the views on imposition of Local Body Tax (LBT).
At the outset  Dipen Agrawal, President of the Chamber welcomed the invitees and apprised them that the Maharashtra Government has issued notification to Municipal Corporation in the State to introduce Local Body Tax, abolishing Octroi from 1st April 2013.
Agrawal, President further said that the Rules indicated in LBT notification are extremely harsh, ambiguous and obnoxious. He further stated that in Maharashtra there were many types of taxes like Income Tax, Excise Duty, Sales Tax, Service Tax, Professional Tax, APMC Tax, Food and Civil Supply Tax, Food and Drugs Tax ,VAT, Weights & Measurement Tax and Gumasta etc. Maintaining accounts of all these, the taxes were under tremendous pressure. Under these circumstances another burden of LBT would add salt to the injury of traders as it would be required to maintain again a bunch of ledgers and files. This might also force traders as well as professionals like Medical practitioners, Chartered Accountants and Sales Tax Practitioners to escape from this tiresome exercise through illegal means and could even cause tax concealment. There was bright chance for Inspector Raj resulting into bribe and corruption. The revenue currently going into the coffers of the NMC would now directly go into illegal hands which would finally result in decrease of Government revenue. He also drawn the attention of invitees when the Union Government was about to impose GST in the country where in it would be mandatory for abolishing all small taxes ,the eagerness of Maharashtra Government on imposing LBT was difficult to understand. At the time of imposing Professional Tax, the Government had assured that the tax was just for a short duration but it was now spreading its arms by leaps and bounds day by day.
 Dipen Agrawal  appealed the invitees and all professionals to oppose the LBT and address letters to Chief Minister, Maharashtra, Mumbai not to include the Professionals under LBT net to Professionals. He requested the invitees to appraise their views in regard to LBT.
D.P . Lohiya, CA, President, Vidarbha Tax Practitioners Association, Sales Tax Bar Association condemned the State Government move of implementing LBT when GST is being implemented in 2014.
Dr. Kush Jhunjhunwala, President, Indian Medical Association suggested to have a mass awareness meeting of all Professional Associations and Traders from the city. Invitees present in the meeting said that all Professionals would discuss the issue in their respective concerns with the members and appraise them not to take registration under LBT Ambit.
It was unanimously decided that the Professionals would oppose the LBT and all the Associations are with NVCC and would follow their calls in the matter of LBT.
Prominent present in the meeting were:- Sarvashri Dipen Agrawal, President, NVCC, Sanjay K. Agrawal, Convener, LBT Sub Committee, Jagdish V. Bang, Past President, Mayur Panchmatia, Ajaykumar Madan, Vice Presidents, Chunibhai Shah, Treasurer, Sachin Puniyani, Jt. Secretary, Dr. Harish Chandak, President, Dr. Kush Jhunjhunwala, Secretary-IMA, CA D. P. Lohiya, President, CA Nitin Gandhi, Secretary, STBA, Nagpur, CA. Shailendra Jain, President, Adv. L. P. Dhunisingani, Secretary, VTP Asson. CA Swapnil Agrawal, Chairman, Nagpur Branch of ICAI. states in a press note issued by Shri Sachin Puniyani, Hon. Jt. Secretary of the Chamber.