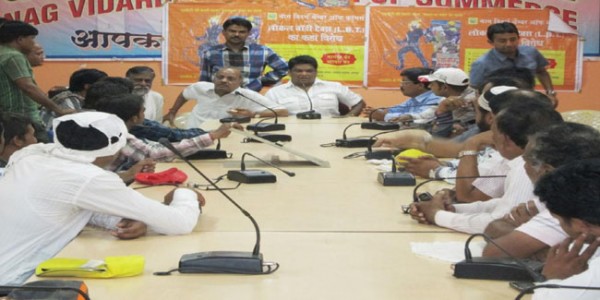 Nagpur News: Today, more than 5 Lac traders in Mumbai completely closed down their shutters and came down on streets protesting against LBT. It is reported that police resorted to Lathi Charge at some places wherein many traders were injured and also arrested by Police. The Mumbai traders have given a call for " JailBharo" agitation against the lathi charge by the Police.
NVCC in a Press release has strongly condemn the action of the Police department & Government for resorting to lathi Charge on traders with an intention to forcibly curb the agitation & demoralize the agitating traders instead of resolving the genuine & legitimate demands of trading Community.
In Nagpur the Indefinite Trade Bandh against LBT entered into its 15th day. The Bandh was near total as markets in the city remained total bandh for 15th Day in succession.  The members of Wholesale Cloth & Yarn Merchants Association &Sona Chandi Oli Committee were also closed against LBT and shall continue observing bandh for indefinite period till complete abolition of LBT.
Today, traders organized a program of singing National Anthem at Lakadganj, Timber Bhawan, Chhapru Nagar Square , Dr. Ambedkar Square, Wardhaman nagar Square, Vaisno devi Square, Gangabai Ghat Square, Telephone Exchange Square, Agrasen Square, RBI Square, Gitanjali Square to awaken the Government which has gone into deep slumber.
In an another development Nitin Gadkari, Ex President Bhartiya Janta Party, has in a letter to Chief Minister Prithviraj Chavan requested him not to make prestige issue on issue of LBT in the interest of development of the state. He has further mentioned that the State Government has already increased VAT rate from 4% to 5% from 1st April, 2010 with an intention to abolish Octroi  & to reimburse the Municipal Corporations from the increased revenue so received in the Government Treasury. He has requested the Chief Minister to give justice to the citizens of the State.
ShekharSawarbandhe, ZillaPramukhof Nagpur unit of Shiv Sena visited NVCC office & had detailed discussions with trading community on issue of LBT & assured full support of his party to the ongoing agitation of the Traders.
More & more Cities where LBT has been imposed earlier, are again joining in Trade Bandh of their cities and in all probability all cities where LBT is imposed or is going to be imposed shall join in trade bandh in days to come. In this regard a meeting of Trade bodies of all cities has been organized by FAM in Mumbai on 7th of May at 3.00 PM to further strengthen the agitation against LBT.Chandrapur&Amraoti shall be observing 1 day trade bandh on 7th& 8th of May respectively in support of NVCC's bandh& against LBT. A meeting of Amraoti, Akola &Chandrapur Chamber of Commerce  has been convened at NVCC offica on Tuesday, 7th May 2013 to update them of developments of ongoing agitation and to decide further course of agitation against LBT.
A delegation of Vidarbha Industries Association under the leadership of their President Shri PrafullDoshi and Vice President, Shri Rohit Bajaj visited Chambers office and supported agitation against LBT &LPT .
SakkardaraVyapariSangh has also joined in trade bandh . This was informed by Shri RajuPawde, DilipKhandelwal ,SatishMadan, SattarPathan, SatishChoudhary and other traders of the area.
The agitation in Nagpur is going on in a peaceful manner in Nagpur . Today thousands of traders visited NVCC office during the day and were very agitated at no positive response from Government on the issue. NVCC fears that  in view of no relief from Government the agitation can turn violent at any time for which the entire responsibility shall be of Government.
Retail shopkeepers of Kirana Trade have organized a meeting tomorrow 7th May at 11.00 AM at Ahinsa Bhavan ,Itwari.  Prafull Doshi& Shree gopal Soni from NVCC shall address the meeting, states in a press note issued by  Hemant Gandhi, Hon. Secretary of the Chamber.