LBT, Corruption and inflation holi dahan organizes at NVCC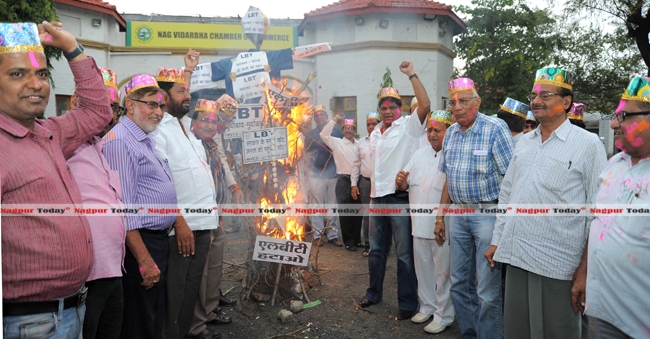 Nagpur News :
Nag-Vidarbha Chamber of Commerce has organized Holi Dahan Programme on Saturday the 15th March, 2014 at 5.30 p.m. at its premises Temple road, Civil Lines, Nagpur.
At the outset Dipen Agrawal, President welcomed the members of trading community and gave good wishes on the occasion of Holi Festival. He said Holi is a festival which symbolizes victory of good over evil. The evils of corruption & inflation & LBT is being faced by society presently. We have burnt this evils today in Holi & we hope that society will soon be freed from this evils. He further said that the Government of Maharashtra has imposed LBT in 25 Municipal Corporations of Maharashtra which is causing hardships to members of trading community & citizens.
Though, FAM, NVCC & other Trade Associations/Chambers of Maharashtra observed Trade Bandh, took morchas met Important Leaders of the Central & State Governments but nothing has been done by them for withdrawal of LBT. We members of trading community have to continue our agitation for withdrawal of LBT, hence today we have assembled here for burning the effigy of LBT, Corruptions & Inflation on this occasion so that the concerned authorities to reconsider and withdraw the LBT.
Prominent present were Sarva Dipen Agrawal, President, Rameshkumar Mantri, Prafulbhai Doshi, Nilesh Suchak & Jagdish V. Bang, Past Presidents, Mayur Panchmatia, Prakash Mehadia, Ajaykumar Madan, VPs. Hemant Gandhi, Secretary, Raju Vyas, Treasurer, Manubhai Soni, Sachin Puniyani, Ashok Sanghvi, Jt. Sec. Arjundas Ahuja, Farooquebhai Akbani, Gajanand B. Gupta, Govind Mantri, Jaiprakash Parekh, Natwar Patel, Pratap Motwani, Rajeshkumar Ohri, Shabbar Shakir, Sanjayraj Modh Saraf, Santosh Kabra, Umesh Patel, Vijay Kewalramani, Shankar Sugandh, Narayan Toshniwal, Inderchand Prohit, Sayyed Nawab Ali, Madhusudan Sarda, M.R.Singhvi, Deepak Khurana, Raju Vyas, Bhaskar Ambade, Yogesh Golchha, Ajit Parulkar, Shambhudayal Tekriwal, Yogendrakumar Agrawal, Manoj Kumarley, Manohar Sahajramani, Raju Makhija, Asim Bordia.
Hemant Gandhi, Secretary the programme, Ashok Sanghvi proposed vote of thanks Sachin Puniyani made all the arrangements of Holi Dahan Programme.