State Government reduced LBT on fuel by 1 per cent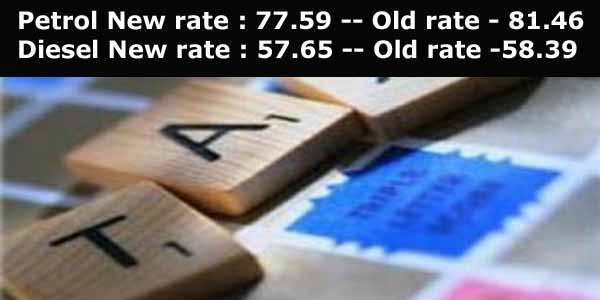 Nagpur News: NOW, petrol and diesel will be cheaper in the Orange City from April 1, as Maharashtra Government has reduced Local Body Tax (LBT) on fuel from 4.5 per cent to 3.5 per cent.
Petrol New rate : 77.59 — Old rate – 81.46
Diesel New rate : 57.65 — Old rate -58.39
The Octroi cess has been abolished from March 31 and LBT come into force from today,April 1, 2013. The State Government has announced scheduled rates of LBT on Various items brought into the limits of the city for consumption, use or sale.
The state Government has reduced LBT on various items as compared to Corti cess. LBT on domestics cooking gas cylinder will be 2.5 percent instead of 4.5 percent. LBT on Sugar has been reduced from 3 per cent to 2 per cent and Gold, Diamond and Bullion from 1 per cent to 0.5 per cent.
Similarly, LBT on Liquor has been reduced by 5 per cent. Earlier the octroi on liquor was 15 per cent but LBT on liquor…
The Nagpur Municipal Corporation (NMC) administration has started implementation of local body tax (LBT) from midnight of Sunday, brushing aside all the opposition to LBT. Forms of LBT have been distributed to 22,000 traders out of 28,000 coming under the purview of LBT.
The NMC administration has been emphasising on making registration number available in the month of April.
Municipal commissioner Shyam Wardhane told that octroi has been abolished to give way to implementation of LBT from Sunday midnight. This tax is same throughout the State, which will bring prices of all essential commodities down. Wardhane has appealed to all traders to co-operate with NMC in implementation of LBT.
No LBT on 59 items 
Maharashtra Government Has exempted various items from the purview of LBT under Schedule B. The Government has exempted agriculture items, aids and implements used by handicapped persons, animal-driven carts, betel leaves and beedi leaves, School books,panchanges time table for passenger transport services, maps, charts, bread in loaf, rolls, broomsticks, cereals, paddy rice, wheat and pulses, chalk stick, charcoal (excluding for industrial use ), Charkha, Khadi garments handloom, Gandhi Topi, clay lamps, family planning medicines, cotton and silk yarn, earthen pot, butter milk.
This new tax regime would make some commodities dearer while others cheaper – giving a much needed relief to the buyers.
Mix Reactions from traders – Gain for some – loss for others
According to Nagpur Oil Merchants Association president, Laxminarayan Sharma, LBT would escalate the prices of edible oil. Every day transaction worth ` 1.75 crore is done in edible oil business comprising 10 tankers. Till date, traders had to pay octroi worth ` 4, 250 crore for every tanker. In the new LTB regime, traders would have to shell out double the amount in the form of local body tax.
Secretary of The Wholesale Seeds and Grain Merchants Association, Pratap Motwani said so far grains and pulses have been kept out of the purview of LBT. However, traders would always court the fear – if they too would be brought under the ambit of new tax regime.
In the pre-LBT regime, octroi was applicable on petrol and diesel as per basic rate. However, in the new regime, LBT would be made applicable as per the selling prize based on the total turnover. This would bring down the prices of petrol and diesel nominally by 20-30 paise, said president of Vidarbha Petroleum Dealers' Association, Harvinder Singh Bhatia. Similarly, cooking gas cylinders would be available cheap due to reduction in LBT rates, he added.
Builder and secretary of Vidarbha Tax Payers' Association, Tejinder Singh Renu said ` 10 per square foot would be charged as LBT upto 4 storeys of a building, ` 15 per square foot upto 8 storeys and ` 20 per square foot for a building having more than 8 storeys.
This would be in addition to the LBT applicable on the material used in the construction. Coupled with this, 1 per cent stamp duty and VAT would make the property purchase a costly affair, he informed.
Executive committee member of Maharashtra State Pharmacy Council, Harishchandra Ganeshani said earlier 1 per cent octroi was applicable on all types of drugs. The rate of LBT would be the same in the new regime. However, registration would become mandatory.
This in essence wouldn not hurt the druggists and chemists of the city. Due to this, they have decided to keep away from the traders bandh on April 1, he further said. President of Sona-Chandi ol Committee, Ravikant Harde said, 0.1 per cent LBT would replace the erstwhile 1 per cent octroi on gold and silver. Similarly, earlier on ready made ornaments, the rate of octroi was 1 per cent, which would pave way for 0.5 per cent LBT. This would make gold and silver and ornaments made from them cheaper.Hence there is a relief to the traders, he said. 59 commodities would not come under the ambit of new LBT regime. These include, among others, vegetables, bicycle, tricycle, newspaper, condensed milk, butter milk, cotton silk yarn, family planning medicine, jaggery, poha, grains, pulses and others. On many other commodities, rate of LBT would come down. These are liquor, gold, electronics goods, electrical appliances, pressure cooker, petrol, diesel gas and others.