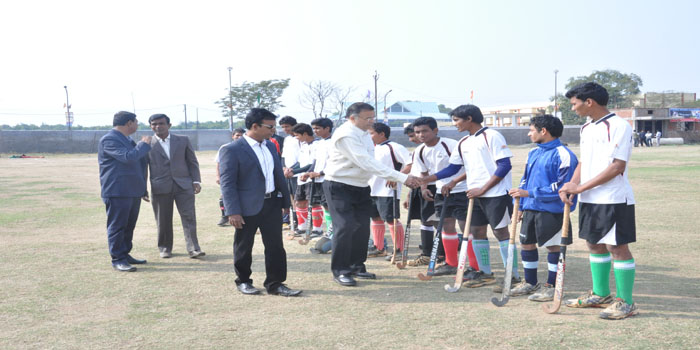 Nagpur News : Late Seth Nemkumar Porwal Inter-Collegiate Hockey Tournament was inaugurated in a glittering ceremony in S.K. Porwal College, Kamptee. The inaugural programme was presided over by Shri Ashok Kumar Bhatia, Director SPM, Kamptee while Shri Vijay Kumar Sharma, Secretary, SPM was the Chief Guest. Also present on the occasion were Dr. M.N. Ghoshal, CEO, SPM, Principal Dr. S.S. Dhondge and Dr. M.S. Shastri, Vice-Principal, Junior College and other dignitaries. The annual report was read out by Convener Prof. Prashant Bambal. The programme was conducted by Prof. J.V. Ramteke while the vote of thanks was proposed by Dr. Indrajit Basu.
The matches were played as per the League system.
The inaugural match played between S.K. Porwal , Kamptee and BTHA, Brahmapuri ended in a draw 2-2. The goals were scored by Shrikant Yadav and Kamal Dhoke on behalf of SKPC while Ganesh Katare and Sanjay Bawne were the BTHA scorers.
The second match Ambedkar College, Deekshabhoomi beat GS College, Wardha 11-2.  Among the top scorers were Shahid Sheikh of Ambedkar College (3goals) and Aamid Khan of GS College (2 goals). The best player awards for the two matches were given to Kartik Yadav of SKP College and Shahid Sheikh of Ambedkar College.