Nagpur News :
The Late D P Chakraborty Memorial Invitational Volley Ball Tournament-2014 which was jointly organized by Vidharba Volleyball Association and Masters Health Club Nagpur was held at Vasantrao Naik Vasahat. Late Sri Chakraborty known as DADA Sir who is one of the founder member of the Masters Club and also the former Vice President of Masters Club. The Masters Club adopted around 30 children from Vasantrao Naik Vasahat with the leadership of Dada Chakraborty for their all round development. He has named his children Unit of Mukul Fauj. We have lost Dada Sir on Decmeber 4, 2013 suddenly which is unbearable loss of all of us. Madan Jahangir of Jawala Construction is the sponsor for the tournament and the co-sponsors are Pachim Nagpur Bangiya Samity, Nagpur (Winners Prize) and also Ramakrishna Natthuji Bawane in memory of his mother Late Bhhagiratha Natthuji Bawane (Women Team).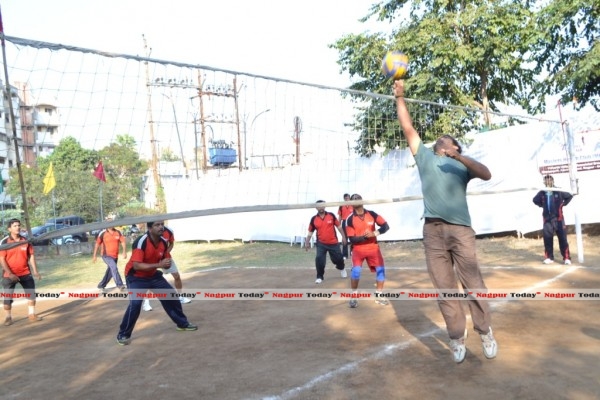 This unique 40+ age group tournament having one all ladies Team received an overwhelming response.Twelve (12) teams participated in all, out of which Ravinagar A emerged winners beating Masters Health Club in straight sets 21-15, 21-15.  In the semi-final Ravinagar-A beat Air Force (Vayusenanagar) after a tough fight and Masters Club beat Ravinagar B in three sets.
The names of the teams who participated are: SE RLY/Neeri/Air Force/Sales Tax/Ravi Nagar/Baludyan/Agriculture/VT Sports/Masters Club/ Paschim Nagpur- Tournament on knock out basis. The winners were to be awarded with a prize of Rs 5000/ and the runners Rs 3000/ by cash. Medals were to be given to all participants in memory of Late D P Chakraborty and memento to be given to all women participants in memory of Late Bhhagiratha Natthuji Bawane. It is the first time that Paschim Nagpur was participating in Volleyball Tournament.
The guests who honoured the tournament are Editor of Lokmat Times Dr Meghnad Bodhankar, Secretary of Vidharbha Volley Ball Association Narayan Singh Chowhan, Owner of Jwala Constructions Madan Jahangi, President of Master's Club Rahul Bhorke. Secretary of Maharashtra Pradesh Congress Committee and President of Sanjay Gandhi Niradhar Jojna Ramkrishna Ozha, President of Bajaj Industries Mahendra Bajaj, President of Paschim Nagpur Bangiya Samity Swagata DP Chakraborty. Vice President of Masters Club Sashin Chanchani, Secretary of Masters Club Gopal Mahurkar, Asha Ramakrishna Bawane, Tiwari of Nabharat Group
The organizing Committee included Pappu Nimbulus, Rajesh Dhabu, D. Mukherjee, Abhay Chikley, J P Banerjee, Anil Bhoyar, Praveen Deshmukh, Pawan Verma, Manoj Yadav, Sameer Shendre, D Hatwar, Tarun Bijor, Shailesh Tiwari, Rajesh Naik, Hemant Piplapure, S P Mishra and Harsh Shaw.