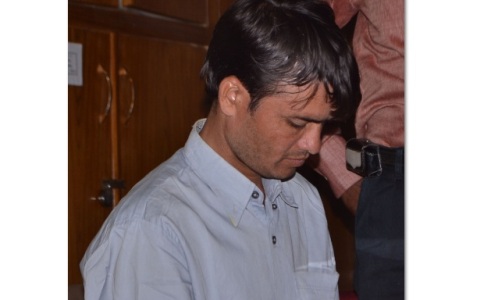 Nagpur News.
Land Surveyor Baban Singh Jadhav of City Survey office no 3, Nagpur, landed in Anti-corruption Bureau net after he demanded bribe for the second time from the complainant Sunil Mourya, an eatery owner, a resident of Sai Nagar in Wadi.
The trap was set up on Tuesday evening at around 5.40 pm at City Survey office no. 3, located on the fifth floor of the same building where ACB office is situated
Mourya claimed that Jadhav, 35, had earlier accepted the bribe amount of Rs 4000 from him and his uncle Ashok Bagadte from Wadi a month before to register their names for the plot which they had bought recently.
According to Mourya's complaint, he had jointly bought a plot with his elder brother Anil at Purna layout society in Dabha while his uncle Bagadte had bought another plot in Dabha. In December, all three had paid Rs 2000, amount to be paid compulsory for the registration of their names in the survey register. However, despite of paying the fee amount and other document, the work was delayed and thus Mourya and Bagadte had gone to meet Jadhav on October 17.
Jadhav had then demanded Rs 4000 extra to get done the registration purpose early. The work was still kept pending for month. A fortnight before, Mourya and Bagadte had gone to Jadhav to enquire about their registration but this time Jadhav again demanded Rs 4000 claiming that his senior officer named Patil has demanded the amount.
Noticing Jadhav's greediness, Mourya and Bagadte reported the matter to Nishith Mishra, Superintendent of Police ACB Nagpur. Under Mishra's guidance, PI Ashok Deotale conducted the trap.