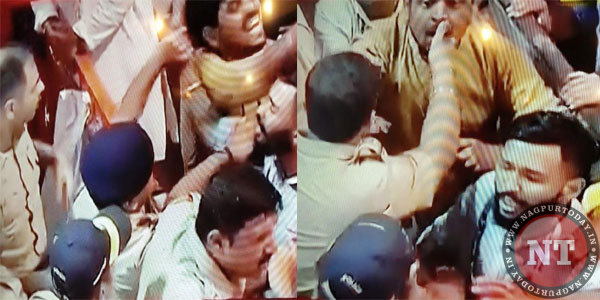 Mumbai/Nagpur: The world famous and most visited Lalbaugcha Raja Ganesh Mandal landed in controversy after a brawl erupted between Mandal volunteers and Zone 3 DCP Abhinash Kumar. This outrageous incident reportedly took place on Tuesday.
According to reports, one entrance is kept open for local residents and volunteers for directly touching the feet of the deity by climbing the stage. This entrance is also used for VIPs to have quick darshan of the Lord. At this same entrance, a wordy duel erupted between the Mandal volunteers and the DCP Abhinash Kumar.
As if this was not enough, the volunteers menacingly ran towards the DCP. Seeing the nasty behaviour of the volunteers, the police official and other cops too got livid. The angry DCP tried to climb barricades for detaining the crooked volunteers but the situation got calmed down.
The DCP Abhinash Kumar was also posted in Nagpur and was terror in the minds of hardcore criminals.
Earlier also, the brute volunteers had slapped a woman cop over trivial issue. Looking to the massive crowd of devotees thronging the Mandal for darshan of Lalbaughcha Raja, a posse of policemen is deployed for safety and security purpose.