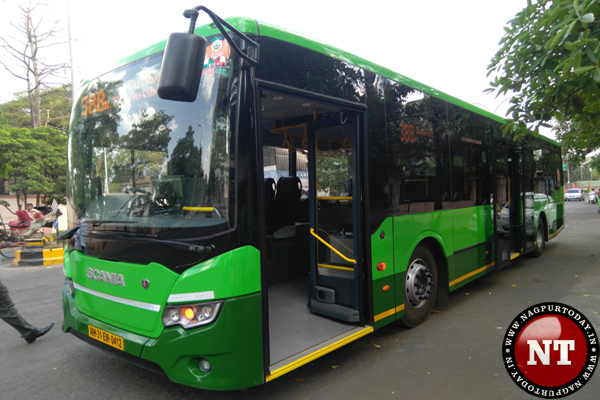 Nagpur: Exasperated over mounting losses being suffered by Nagpur Municipal Corporation over running of Green Buses, the Chairman of Standing Committee Bunty Kukde has urged the State Ministers, legislators and officials to travel in the ethanol run buses during Monsoon Session of State Legislature and send a positive message to commuters.
It may be recalled, the Green Buses are turning out to be 'White Elephants" and 'eating' revenue of the cash-starved local body. The passengers seem to be turning a blind eye towards the air-conditioned Green Buses despite lowering of fares, albeit meagre, as these eco-friendly buses have been found running almost empty on every route.
The Chairman of the Standing Committee, in a letter shot to the Chief Minister Devendra Fadnavis, has pointed out that NMC is running the 'Aapli Bus' service in city since December 5, 2016 with a fleet of 300 Red buses and 25 Green Buses run on ethanol. "If the Ministers, legislators and officials prefer to travel in the Green Buses during the Monsoon Session period, it will send a positive message to the 'reluctant' commuters. If government permits, arrangements for running the Green Buses from Ravi Bhavan, Hyderabad House, MLA Hostel and Vidhan Bhavan premises would be made immediately. It is a better option to travel in Green Buses rather than private taxis," Kukde stressed.
NMC has deployed 25 Green Buses in the city and the total revenue loss from these buses is whopping Rs 1 crore every month. These buses travelled around 1.40 lakh kms in the month of April 2018. The buses carried 72,185 passengers in entire month that means every bus carried only 93 passengers per day. The NMC is paying Rs 85 per km to the bus operator Scania Company. Total payment of 1.40 lakh kms is Rs 1.19 crore while earning is paltry Rs 18.46 lakh in April. The department has sustained loss of Rs one crore in one month. The average loss is Rs 12 crore per annum.
Faced with paucity of passengers, the Transport Committee of NMC had approved to give 'special discount' of Rs 2 in basic fare of Green Buses to the citizens. Subsequently, the basic fare was reduced from Rs 14 to Rs 12 for first two km from April 6. But the situation is as it is. The past week or so after reduction in fare has witnessed no passengers taking ride in the air-conditioned buses irrespective summer heat.