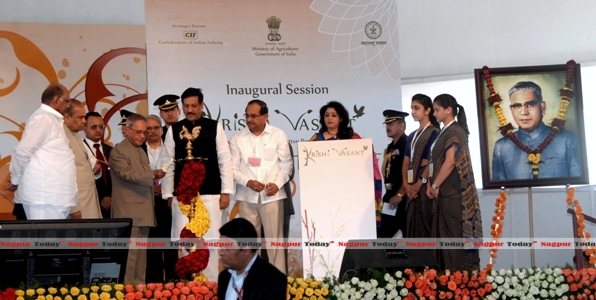 Nagpur News.
After last ten years of extraordinary progress India is now identified as Food Grain Exporting Nation. Due to this national agriculture expo which is introducing technology to the farmers, now it can be expected that farmers will hope to produce more confided President, Pranav Mukherjee.
The national agriculture exhibition, Krishi Vasant was inaugurated at the hands of  the President at Central Cotton Research Institute premises. He was guiding the participants on the occasion. Central Agriculture and Food Processing Ministry, Maharashtra Government and Indian Industries Corporation have jointly organised the exhibition. The information regarding modern technology for agriculture, horticulture and processing industries will be provided to the farmers at the expo.
Present on the dais were Maharashtra Governor, K Shankarnarayan, Central Agriculture minister, Sharad Pawar, Agriculture and Marketing minister, Radhakrushna Vikhe Patil, Social Justice minister, Shivajirao Moghe, Food and Civil Supplies minister, Anil Deshmukh, Central Agriculture secretary, Ashish Bahuguana, chairman of Indian Industries Corporation, S Gopalkrishanan, chairman of Indian Agriculture Research, Dr Ayyappan, Maharashtra chief secretary, J S Saharia and other dignitaries.
There was a time when America and Australia were the countries India used to turn to for food grain supplies. But due to drastic progress in agriculture field we are taking dumper crop production. We are number one in wheat and rice production and exports, Pranav Mukherjee while disclosing this said, this year we are going to achieve a target of 263.63 million metric tonne food grains production.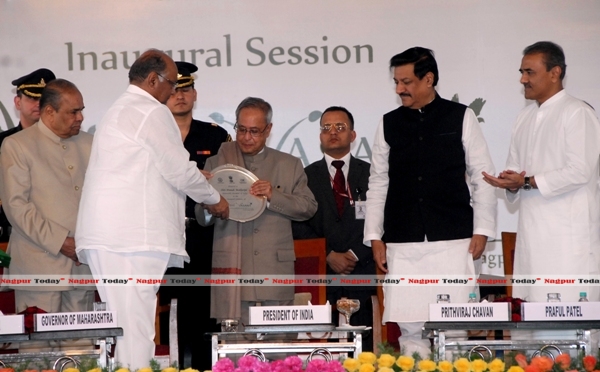 At the time of implementation of  Food Security scheme there were many who had serious doubts but as the nation had strong faith in the hard working of its farmers this bill was passed. If industry and agriculture come together for working in co-ordination and if there is one per cent rise in agriculture sector other sectors move ahead by two or three per cent. If agriculture moves ahead by one percent of GDP, the rural economy of India stabilises and so spreads the effect to urban areas, he assured.
He said Nagpur being the heart of India; this grand event will start second Green Revolution of the country,  Pranav Mukherjee further said that the event is organised to coincide with the anniversary of late Vasantroa Naik and to acquaint people of the work he had done for towards Green Revolution. This is also organised to let the farmers learn about advanced technology which can help them take Indian agriculture to places.
Sharad Pawar said there are very drastic changes in agriculture field, last year India had produced 258 million metric tonne food grains and due to hard work of  farmers this year the production is going to be 263.63 million metric tonne. He said farmers and scientists have made a great contribution for progress of agriculture. Krishi Vasant is going to acquaint farmers with agro related technology and mechanisation of agriculture.
It is an endeavour to reach the research done in various states to the farmers, such effort is being made after 55 years to organise national event related to agriculture. Before this, it was Dr Punjabrao Deshmukh who had organised such event at Delhi, 55 years back, Pawar said.
Maharashtra chief minister, Pruthviraj Chavan , speaking on the occasion said this is a big stride in the field.  It is intended that the farmers should get to know what is happening across the globe. It is due to big strides in agriculture that India can hope to be a super power. He said 83 per cent agriculture is dependent on rains and this particular sector will get great benefit by this expo. Non Irrigated Field Development Mission will have a massive programme budget of 2 thousand crores.
Ashish Bahuguna said through this event the farmers will directly exposed to the latest technology related to the field. It is expected that 5 lakh farmers will visit this expo. S Gopalkrishnan also spoke on the occasion.