A Long Way to Go before it celebrates Grand Diwali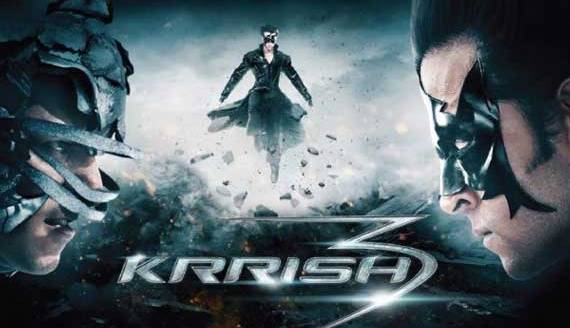 A loving husband who does odd jobs for livelihood also has the big task underneath – to protect the world, his people from the untoward calamities with his blessed supernatural powers. His father with his experimental skills is out to crack the mystery of jadoo's (the magical alien shown in first of the series Koi Mil Gaya) source of absorbing sun's energy for better. In a distant land lies an evil which is all set to harm the world with his deadly creatures that he has created himself. Destiny turns around and links the evil and good with the same blood and same father (surprising!). All these tracks are weaved together into a sci-fi VFX based action thriller to serve Diwali platter on audience's table.  The wait is finally over and Filmkrafts Production's latest outing Krrish3 is here on screens, with Rakesh Roshan donning the director's hat.
The undertone…
With a will and desire to save the people from evil and help those in need, we all can have Krrish in us. The gentle touch of humanity – universally accepted by viewers across boundaries – has what played an undertone in the action packed Krrish 3, the year's one of the most awaited movies that hit screens this Diwali. Though early trade makes it the fortune winner, it will be too early to state how far the latest Krrish venture has fetched in winning up the hearts.
The plot…
Krrish – the first Indian superhero created by ace filmmaker Rakesh Roshan, some years back has now moved on, living a happily married life and follows the normal course while helping out the people, of course, in the dazzling display of superpowers. All appeared sunny and cool till a deadly virus comes from distant land to disturb the world. The first frame opens with the voice of Amitabh Bachchan narrating the previous tales with titles on. The film picks up from the point where it ended in its last part. Krishna Mehra (Hrithik Roshan) and his wife Priya (Priyanka Chopra) lives with his father Rohit (elder Hrithik). Rohit works in laboratory. Krishna is often thrown out of his jobs many times because he could not do his duty properly for the sake of his hidden duty – to help people in Krrish avatar. Kaal – the owner of Kaal Pharmaceuticals makes strange virus through his men and spreads it out to the world. Then they make the antidotes for the same virus and make millions. Behind the scene is Kaal's own world of laboratory-made deadly creatures whom he calls 'maanvars' , combination of maanav(humans) and jaanwars (animals). Kangana Ranaut is one such maanvar made out of blood of human and chameleon.
Kaal chooses the next destination for his virus attack as India and lobs the people with virus. But Rohit succeeds in making its antidote through Krishna's blood. This rages Kaal and he sends his mutant Kangana after the Mehra family in the guise of his wife who is kidnapped and kept at Kaal's laboratory. While Kangana tries to unfold the secret behind Rohit's antidote, she develops a change in her heart with the caressing feel of Hrithik. But the truth gets exposed and then both head towards Kaal's place where Rohit and pregnant Priya is held hostage. Finally after some twists and turns the good wins over the evil.
Filmy twists…
The mutant enacted by Kangana starts feeling love. Then dream sequences and love songs happens, adding filmy Bollywood touch to the track. Meanwhile, Kaal gets his bone marrow from his genetical father who is none other than Rohit himself…!!! Kahaani mein another twist…!!! Then Kaal becomes able to stand on his feet and that adds to his power making him more deadly and dangerous. He kills Krrish but his father brings him back to life after transmitting the controlled the sun's energy into his body and losing his own life in the course…yeh thoda zyaada ho gaya…
The Super Hero
Hrithik performs superbly and excelled in his down to earth human gesture. In a scene Krrish ala Krishna is seen with a boy who gets into danger in his endeavor to save a pigeon. Krrish says to him that he too is a Krrish as he saved the life of pigeon. He has certainly charms with his histrionics. Another scene in which he saves an infant in a kid's trolley at the climax is quite touching. The human touch has certainly made some watchable contents in the movie, excelled by Hrithik's performance. Though the viewers could not see much of his dance as expected, given his terrific dance moves in earlier movies by his father. He pulled off quite well in the role of Krrish, Krishna and Rohit.
The Villain
Iconic villain makes a perfect superhero with a lasting effect on viewers' mind. Though the makers have tried too hard to present Suresh Oberoi (Kaal) as the memorable villain, he fails to make the audience believe his might. He creates mutants by combining the blood of humans and animals in a hope that someday he would find bone marrow that could match his and take him out of the handicapped life. The wheel chair bound Kaal's entire body is non-functional and the extra ordinary powers lies in his two fingers only. In his aggression to stand on his feet, he makes many mutants that demonstrate antics like frog, chameleon (Kangana) and usurping the ice-cream at the blink of an eye. It does add to the few engaging moments but could not bring out its impact.
Kaal himself was the human made out of Rohit Mehra's (Older Hrithik Roshan) DNA by professor Dr. Sidhhant Arya, played by Naseeruddin Shah in its prequel. Dr. Arya wanted to create a mind like Rohit to meet his evil designs. But it failed and the child born out of this experiment was deserted outside an orphanage. He was adopted by another gentleman who was killed by Kaal… Why? Because he could not answer where Kaal got his extraordinary powers from? Well for a movie like this, you certainly expect the thunder strong villain not by design but by default. Vivek Oberoi tried hard but could not pull much.
The Leading Ladies
Priyanka Chopra did not have much to deliver though he fits well into the bill. As far Kangana is concerned, she shows her ability to go beyond her so called tragic roles. Her expression justifies her change of heart that saves the moment of a mutant distracting from his actual task into becoming too filmy.
The Director
Weaving some family moments and adding mysterious finish to the the storyline has always been the director Rakesh Roshan's forte and he did justice to it. This may not be his best creation as it involved too much of special effects. His latest venture lifts some Hollywood action with the help of action directors Siu-Tung Ching and the home grown Sham Kaushal.  Editing is good but at times breaks down and kills the pace.
The Music
This one is certainly lacklustre and given Rajesh Roshan's earlier deliveries for his brother Rakesh Roshan's movies, this one clearly disappoints. Raghupati Raghav… and Dil tu hi pata… is listenable though.  On the contrary, the background sound is appealing and sets the mood for nature of scene. For example, when Kaal is shown, the sound support makes its distinct mark and clearly audible to justify support.
Special Effects
Done by Red Chillies VFX, Shahrukh Khan's company, it reminds of the graphical effects shown in Ra-One. It gets heavy at times but the film gains in this segment.
So Is there something different about this movie? Does it really deserve to be the trendsetter in Bollywood's action genre?  Or for that matter, does it manage to take the Bollywood cinema viewing to another level? The expectations are as high as the movie's budget. But the million dollar question is, will Krrish 3 which is made for Rs 150 crores give its viewers the value added vacation ahead. Well the questions do exist but audiences are certainly looking forward to add this latest flick into their must watch list, atleast for the sake of children.
PS : Don't expect much difference to avoid disappointment. Enjoy the moments within Krrish.


…Rahul