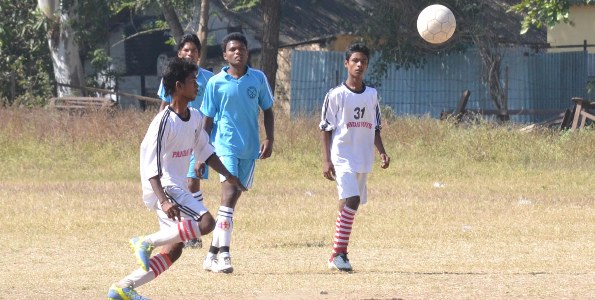 Nagpur News
Krida Vikas Sanstha trounced Orange City "B" 3-2 in the Late Jawaharlal Darda Second Division League organized by Nagpur District Football Association (NDFA) in association with Lokmat Pvt. Ltd at Central Railway Ajni ground on November 27, 2013.
In the first half halftime, Pankaj and Swapnil opened account earning two goals for the Krida Vikas Sanstha in the 24th minute and 30th min respectively. Krida Vikas kept their dominance show on throughout the first half as Shahrukh Khan struck third goal for side in the 49th minute. This was followed by another goal by Mahesh for Orange City in the 6th min. However, Raju Khade again found the net in the 69th min for Orange City but failed to equalize the score by a close margin. Anwar (35th min) and Amit (37th min) of Orange City were cautioned with yellow card during the match.
In another match, Eagle Sporting "B" drubbed Pandav XI 2-0. Eagle Sporting scored through Sagar Meshram (15th minute) and Swapnil Nagrare (35th min).
Eagle Sporting's Kunal (20th min) and Pandav XI's Manish (40th min), Mohsin khan (42nd min) and Sebestin (50th min) were warned with yellow cards.
Schedule for tomorrow's fixtures:
Meghe Senior Division
Qidwai Sporting v/s Shakti Sporting at 2.30pm on police ground.

Meghe First Division
Super Six
1st match : Al-Aziz Sports Club v/s Central Railway Institute at 10.00 am on police ground.
2nd match : Taj Sporting v/s IFFC at 12.00 noon on police ground.
Darda Second division League
1st Match : Nobel FC v/s Mahindra & Mahindra  at  8.30am  on Ajni Ground.
2nd Match : Avengers FC v/s Nagpur City Club "B" at  9.30am  on Ajni Ground.