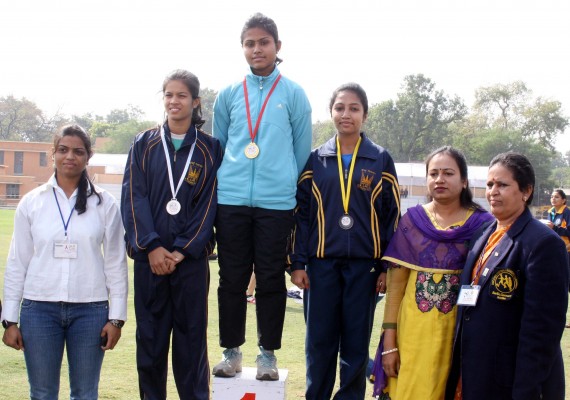 Nagpur News: Mumbai and Pune continue to lead at the close of the third day of Rshtrasant Tukadoji Maharaj Nagpur University's Krida Mahotsav. The University of Mumbai is in the clear lead with 105 medals. Pune University is undisputedly second, having won 77 medals so far, and the host Nagpur University is in third positiong with 44 medals.
Nagpur's Pooja Pandit tied with Mumbai's Shraddha Ghule for the title of Overall Championship among Women. Both won 10 points each. Pune's Suresh Wagh was the Individual Champion among men, with 11 points
In the Women's 400mt race, Goldi Shahi of University of Mumbai came first, clocking 00:59:76. Priti Shukla of University of Pune came in second, clocking 1 minute and 01:21 seconds (01: 01:21) and Juhi Dadarkar also of Mumbai University came third, clocking 01:04:46. In the men's category of the same event, Sunny Patil of University of Mumbai came first with 00:51:33, Sudhir Morde from Dr. Balasaheb Sawant Konkan Krishi Vidyapeeth, Dapoli came second with 00:52:13 and S.S. Chougule from Kolhapur's Shivaji University came third with 00:53:33.
In Women's 200mt, Nagpur's Pooja Pandit came first with 00:27:48 and Mumbai University's Juhi Dadarkar came second with 00:27:84. In Men's 200mt, Mumbai University's Sunny Patil came first with 00:22:81, while asmol Lokhande from Jalgaon's North Maharashtra University came second with 00:23:00 and University of Pune's Chandrakant Zade came third with 00:23:23 In women's 1500mt, Mumbai's Neelam Kadam came first with 05: 04: 30, Nagpur University's Monika Raut came second with 05: 06: 88 and Pune's Pooja Varade came third with 05: 08: 10. In the Men's category, Pune's Suresh Wagh came first with 04: 06: 83, Mumbai's Harshal Mhatre 04: 09: 65 and Pune's Datta Borase came third with 04: 11: 08.
In Women's Basketball, Pune University beat Jalgaon with a score of 24-4. Suhas Bhairat scored 6 points while Prachi Joshi scored 8 points for their team. Mumbai University defeated SRTMU Nanded with a score of 44-4. Rashmi M Kumar scored highest 10 points in the match. MAU Nashik defeated MFK Rahuri in the most low- scoring match of the tournament with a score of 12-5. Kolhapur thrashed Gadchiroli with a score of 29-2. Gadchiroli remained the lowest scoring team in the tournament.
In Men's Basketball, Shivaji University Kolhapur registered their win over Gondwana University in a neck to neck finish which resulted in a score of 66-50.  A. Pawar from Kolhapur University contributed the highest 14 points. In the next match, Dr. B A M V Aurangabad beat B S K V Dapoli with a score of 50-20. A. Lombare was highest scorer with 14 points. The next match was again a one sided affair as Rahuri beat Parbhani with a score of 30-7. M. Mukhta scored 7 points for his team. Amravati University beat Nashik University with a score of 36-25. Rajind K. scored 14 points for his team. This match was a treat to the spectators.
The 400x400mts Women's relay results seemed metaphoric of the entire tournament, with the University of Mumbai coming in first (00.52.08), University of Pune coming in second (00.54.33) and R.T.M Nagpur University coming in third (0.56.10). In the Men's 4x400mts relay, University of Pune came first (00.43.89), Kolhapur's Shivaji University came in second (00.45.21) and Jalgaon's North Maharashtra University came in third (0.45.49).