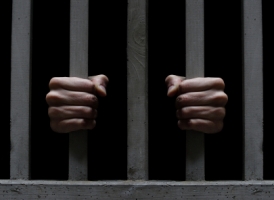 Nagpur News:
Koradi Police have finally cracked Kailash Hattimare's murder case and have arrested the accused Ravindra alias Ravi Marwade. Police produced Ravindra in the court which sent him to police custody till July 2.
According to police, the Arya Nagar resident Madhukar Marwade lodged a complaint on June 28 with Koradi police informing them that his brother Ravindra Marwade's brother-in-law, Kailash Hattimare (Gondia resident) was murdered by strangulation. After the complaint of Kailash Hattimare's murder, Koradi police initiated an investigation into the murder. During investigation, police come to know Kailash was working as a watchman. On the day of incident he had an argument and fight with an unidentified person.
The police were patrolling in Arya Nagar as a part of investigation. Police spotted Ravindra alias Ravi Rekhram Marwade (24), resident of Waghatola, Balaghat, roaming in suspicious manner. Police first detained him and started quizzing him. However, to the surprise for police, Ravindra spilled the beans and confessed murdering Kailash Hattimare. The accused Ravindra told Koradi police that he met Kailash two months ago. He and Kailash used to go to a liquor shop on Koradi Road and enjoy a glass or two. But, Kailash, once having liquor in full quota, was resorting to abuse and fight with him. (Ravindra). Ravindra several times "advised" Kailash to stop abusing and fighting with him under influance of liquor.
On June 28, as usual went to the liquor shop and finished their quota of liquor and started for their homes. Meanwhile, Ravindra reached Kailash's house at about 10 in the night. Kailash, who was watchman at an under-construction building in Koradi area, was sleeping in the same building. Ravindra, too, went to the spot and strangulated Kailash, already sleeping and under the influence of liquor. However, Ravindra thought Kailash in not dead, he then pulled him towards a couch lying in the building and tied Kailash with ropes and then slit the throat of Kailash with a blade and fled the spot.
The Koradi police, after receiving information about the murder, rushed to the spot the second day morning and after paper work sent body of Kailash for post-mortem. Police registered an offence of murder and arrested the accused Ravindra alias Ravi Marwade.
However, the mystery shrouds the complaint lodged by Ravindra's own brother Madhukar Marwade. Was Madhukar trying to mislead police and divert their attention for saving his brother Ravindra? Further probe into the matter could expose Madhukar's plan.