Nagpur: In a bid to inform citizens about their regional Police Station, Nagpur Today came up with an exclusive series — Know Your Police Station – to enable all the necessary information regarding the Police Station to the general public. In the report, you will find information about the Police Inspector of the respective Police Stations, ways to contact them in case of any emergency, besides the official's future goals in the region etc.
Part 1: Ganeshpeth Police Station
Established on July 1, 1965, the Ganeshpeth Police Station is currently led by Police Inspector (PI) Bharat Tukaramji Kshirsagar (a PSI of 1996 batch). Ganeshpeth Police Station operates with 109 staff members including 13 officials and 2 PIs. Ganeshpeth Police Station comprises Agasen Chowk – Ramjhula – Railway Under-bridge – Ashok Chowk area under its jurisdiction. With Bajeria, Bhaldarpura, Gujarwadi, Ganeshpeth Bus-stop being the sensitive points.
Ganeshpeth jurisdiction boundaries: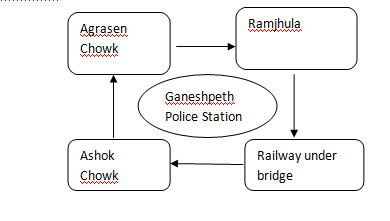 Speaking to Nagpur Today, PI Bharat Kshirsagar discussed the regular crises faced by the citizens under Ganeshpeth PS, his future approach to curb the problems and had asked citizens to directly call him on his personal mobile phone – 9822841188 — in case of any emergency or if anyone wants to share any secret information, their anonymity shall be protected, he assured.
Local Interactions:
Regular interactions with locals instill their faith in ideal policing. Thus, we at Ganeshpeth Police Station make sure to conduct Mohhalla Committee meetings, Special Woman Counseling sessions and also bus and auto union meeting to understand their problems, said PI Bharat Kshirsagar and added, "A comprehensive conjunction of Police, Society, Administration and Judiciary, can only reduce crime," he said.
Gandhisagar Lake under Surveillance:
Last year, a total of 42 persons committed suicides at Gandhisagar Lake. Between January and June, six suicides were reported, while during July and December 2020, total 36 persons ended their lives at the lake as lockdown restrictions came at ease.
"Owing to rise in numbers of suicide at the Gandhisagar Lake, we've raised our surveillance around the lake. Our officials boarded on newly enabled Balanced Vehicles; patrol the lake premises daily, between 5 pm and 8 pm. The observation is followed by the Beat Marshals and other officials during the night. We've kept remote contacts with local shopkeepers and vendors who would inform us if any suspicious person found setting alone near the lake premises for too long. Acting swiftly on the inputs, Ganeshpeth Officials rush to spot and provide counseling. We've also written to Nagpur Municipal Corporation (NMC) to repair the necessary infrastructure near the lake premises," said the PI.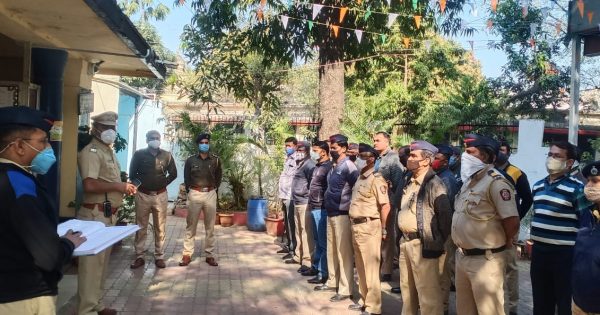 To reduce traffic chaos, woman safety; paramount: PI Kshirsagar
I've been aware of traffic snarls in the area, especially at Ganeshpeth Bus-stop premises. We shall be preparing a full-proof blueprint to improve the traffic movement in the area. Besides, incidents of eve teasing, public drinking will not be tolerated. Safety of school girls and women is paramount. All the necessary arrangements to maintain the law and order in the area are underway. We shall soon start a crackdown on anti-social elements, preparations regarding the same are in process," said PI Kshirsagar.
BY Shubham Nagdeve and Ravikant Kamble