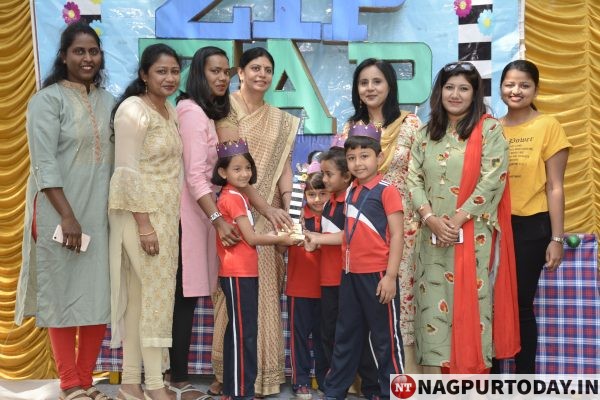 Nagpur: Little Jewels Kindergarten, Clarke Town was jam-packed on Sunday, March 1 as the kids coupled with their parents brought the traditional attires of the states on the ramp at an eighth annual fashion show of Little Jewels Kindergarten – Incredible India, Proud to be Indian –fascinating the audience to the brim.
The fashion show winds up the 8th edition of ZIP ZAP ZOOM – inter-school talent hunt competition – conducted by Little Jewels Kindergarten. Besides the spellbinding fashion show, the event observed the prize distribution ceremony on this occasion.
Dr. Uma Pitale, Director and Consultant Physician, Dew Medicare & Trinity Hospital, Nagpur was the chief guest for the function. Tushar Badjate, Trustee, Jain International School and Anmol Badjatia, Principal, Jain International School & Little Jewels Kindergarten also graced the event. The programme started with the lighting of the traditional lamp at the hands of dignitaries followed by fashion show and prize distribution.
Anmol Badjatia and the parents appreciated the efforts of both the Co-ordinators of Little Jewels, Khare Town and Clarke Town — Pooja Puniyani and Ashita Dawda — their team for the zealous event.
The 'Zip Zap Zoom Talent Hunt' school trophy was awarded to Jain International School, Katol Road for winning the maximum number of prizes overall.