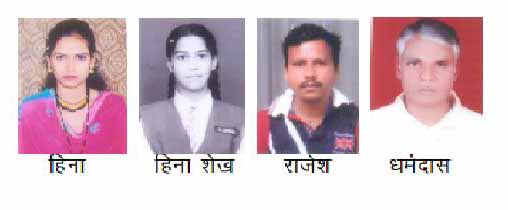 Nagpur News: The Second Capital City, now-a-days, has been witnessing a spurt in the incidents of kidnapping minor school boys and girls and the offence deserves a comprehensive investigation at top level. Human trafficking appears to be the nefarious design of a gang or gangs involved  in the kidnappings.
THE RECENT CASES OF KIDNAPPINGS OF MINOR BOYS AND GIRLS:
1) Digamber Kisan Kale (13), native of Divat, Pimpri, District Yavatmal, but staying in the Nagpur Hostel, went to Sudhakar Zade Middle School in Bhagwan Nagar at about 8.30 am of Saturday (August 30). However, Digamber did not return from school. A search was carried out by the Hostel authorities but they could not trace Digamber at all possible places.
2) A 13-year old girl was kidnapped from Government Girls' Hostel. The girl Fiza alias Shahana Perveen Ansari (13), a native of Hinganghat, District Wardha but staying at Government Girl Children's Hostel located on Katol Road under the jurisdiction of Sadar Police Station, left the Hostel without coming in the notice of the Care Taker on July 7. However, she could not be traced till today.
3) Two girls — 13-year old daughter Suchita and her friend Prajakta Suraj Raut (13), were reported missing and probably kidnapped.
4) Wadi police have booked a Madhya Pradesh youth on the charge of kidnapping a Nagpur girl. According to police, the suspected youth Rajesh Lade (20), native of Sohagpur, Saunsar Taluka, District Chhindwada, had come to Nagpur. Rajesh went to Wadi area on 13-08-2013 at about 0700-0800 hours and forcibly took the 13-year old girl with him.
5) Dhantoli police have booked a youth on the charge of kidnapping a 16-year old college girl. According to police, the accused youth Surendra alias Raju Dhruvraj Choudhary (26), resident of Pandhrabodi, went to the college of the girl, a resident of the same area,  on July 26 and promised to marry with her. However, when the girl flatly refused Surendra's offer, he kidnapped her from the spot in the college.
6) Nandanvan Police have arrested a youth and searching for his friend as both are accused of kidnapping two girls. According to police, the two youths, Bablu alias Harishchandra  Shivprasad Nagpure (21), resident of Aradhana Nagar, Nandanvan and Vishveshwar alias Sunil Kapurchand Neware conspired and promised two girls of marriage with them. The girls, too, believed them. The two accused youths, after trapping the two girls with marriage promise, took them to their rented room in an unidentified area.
7) A 12-year old went missing mysteriously from a hostel for boys. According to police, the boy Abhijit Suresh Bagde (12), a resident of Gorewada left his Kalpana Bhavan Hostel in Gorewada between 1200 and 1600 hours but did not return. The Hostel Warden Rajendra Mohan Patil (33), also resident of Kalpana Bhavan Hostel lodged a complaint with Gittikhadan police in this regard.
8) An abduction of three minor girls was filed by Gittikhadan police when the trio, all residents of Kutub Shah Nagar, had gone missing. 13-year-old Isha Wankhede had left home hasn't returned yet. Her neighbours-Shivani Sonawne, 15 and 12-year-old Rani Bhavsar- had gone missing while they were playing near home.
9) Pachpaoli police have booked a youth on the charges of kidnapping a girl. According to police, the accused youth Suraj Raj Borkar (20), a resident of Anand Nagar, Yashodhara Nagar, Nagpur, kidnapped a girl who gone to purchase a bread on her Activa (MH-31/BN 4946). However, the girl did not return even after a considerable time. The panicky parents of the girl immediately reached the Pachpaoli Police Station and lodged a complaint of the kidnapping of their daughter Suraj.
10) Dhantoli police have booked an unidentified youth who kidnapped a 15-year old girl. According to police, the girl, a resident of Takiya, Dhantoli, was trapped by the youth with a promise of marriage with her. The 15-year old girl, too, trusted him and was ready to marry with the unidentified youth. When the noticed that the girl was ready to marry with him took the advantage and eloped with minor girl. Since the girl was minor, police have booked the accused under the relevant sections of IPC amounting to kidnapping.
11) A young girl and a 10-year old boy have been kidnapped by the criminals. There is no clue about their whereabouts. According to police, a 25-year old girl was kidnapped after luring her of providing a job of catering. Archana Dhande, a resident of Wathoda and Pinki alias Anita Sadmake and their accomplices conspired and kidnapped the girl. Both the accused girls, Archana and Anita trapped the girl by first making her their friend. The accused girls lured the girl by promising her a job of catering and took her out of Nagpur. Once the girl was trapped they kidnapped her.
12) According to police, the kidnapping incidents were reported from Gittikhadan and Pachpaoli areas of Nagpur. Two boys and girl were kidnapped. All of them were playing nearby their houses. In the first incident, a 4-year old boy Durgesh Vitthal Khapekar, resident of Sambhaji Kasar Mohalla, Dhivarpura, was kidnapped when he had gone to neighbour's house and was playing with Kailash Gokhale (5). At the same time some unidentified persons lifted both Durgesh and Kailash and disappeared from the spot.
13) Before the black memories of kidnapping and murder of the little boy Kush Katariya in Wardhaman Nagar few years back could diminish from people's minds, another gory incident of a 11 year old being kidnapped and brutally murdered within 24 hours surfaced to hound the people in Nagpur once again.
14) Heena Samir Khan (21), resident of Plot No 72, near Shyam Lawns, Gittikhadan, left her on 23-08-13 and did not return till today.
15) Heena Sheikh Ramzan Sheikh Usman (20), resident of Gittikhadan, Nagpur left her home on 30-08-13 but did not return till today.