Khasdar Krida Mahotsav Walkathon gets overwhelming response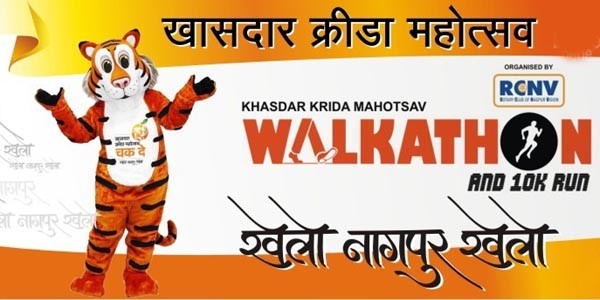 Nagpur: The sporting fever of Khasdar Krida Mahotsav being promoted as Chak De, Khelo Nagpur Khelo, will be reaching its peak on May 27 when the fitness enthusiasts of the city will walk and run on Sunday morning in a special Walkathon event.
The Walkathon is being organized jointly by the Rotary Club of Nagpur Vision and Sports Journalists' Association of Nagpur (SJAN) as the culmination event of the grand sports festival envisaged by our beloved Union Minister Nitin Gadkari.
There will be three basic categories; 3 KM Fun Walk, 6 KM Competitive/Prized Walk and 10 KM Timed Run in different age categories, all these will start from Ramgiri located at the serene Walkers Road, Civil lines Nagpur from 5:45 am onwards.
In addition to the walk there is also a 10km competitive run organised for the enthusiastic runners of Nagpur City.
The Walkers Road will abuzz with men, women and children in similar T-shirts and Caps. The atmosphere will reverberate with the energy of the young and old as they gather at the venue — Ramgiri. There will be much cheering as some participants vie for the top place. There will be walkers who want to prove their strength; there will be some who will be there to enjoy the ambience; there will be some who will come to enjoy the Sunday morning with friends. And all will be there to WALK.
This Walkathon is unique as number of special categories has been added for the first time, there will be a 'Family Walk' wherein the biggest participating family will win, 'Parent-Child Walk' in which the children will walk with any single parent for the prize and to take care of the special citizens of our society a unique 'Specially Abled-Buddy Walk' will be held wherein a Normal person will choose a specially abled participant and compete for a short distance walk, people from various categories of disability like Blind, Physically Challenged, Deaf & Mute and Mentally Challenged will enthusiastically participate in the event.
The winners of the 10km event both in the open men and women category and in the veteran (45+ category men and women) will take home a prize money of Rs 21,000 each while the second finisher in all the sections will be awarded a cash prize of Rs 11,000 and the podium finisher will be richer by Rs 5,000 each.
Similarly in the 6km event, the winners the men and women and also in the veterans' section, takes home Rs 5,000 each, while Rs 3,000 will be given to the runner-up and Rs 2,000 will be awarded to the third place finisher in every category.
Attractive prizes will be given in the 3km event and for the special categories and also for the largest family participation.
The Spot Registration for all categories will be done at the venue and also at Ravi Bhavan in Civil Lines between 10.30 am and 6 pm.
On the day of the event, parking facilities are planned at Tirpude College and near CP Club. All the participants are requested to report at Ramgiri at 5.15 am. Spot registrations too will be accepted at Venue on Sunday 30 minutes before the reporting time.
Further information can be sought from Dinesh Naidu-9823016763, Manish Agrawal- 7219494747, Piyush Ambulkar-8928646746, Pinaki Mukherjee- 8380072746.
Members of Rotary Club of Nagpur Vision along with Sandeep Joshi, Convener of Khasdar Krida Mahotsav are working hard to make this one of the biggest sporting cum Fun event of Nagpur City. Orange City Runners Society-OCR which is the premier running club of Nagpur along with Run Buddies a professional Marathon organizing company from Pune are extending their technical and wholehearted support to make 'Khasdar Krida Mahotsav-Rotary Walkathon' a memorable event.