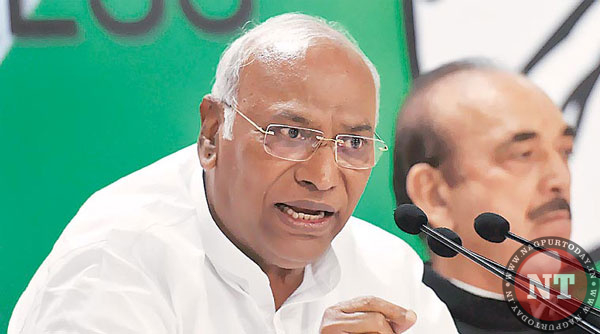 Delhi : In a surprise move, the Congress President Rahul Gandhi appointed the leader of the Opposition in Lok Sabha and senior party leader, Mallikarjun Kharge as in charge of the Maharashtra unit of the party and divested Mohan Prakash of his duties.
Gandhi was not happy with Mohan Prakash and wanted to reshuffle the party in Maharashtra ahead of the state elections, to be held next year.
The former Gujarat Pradesh Mahila Congress (GPMC) president Sonal Patel, Ashish Dua from Haryana and Telangana MLA Sampath Kumar were appointed as Secretaries of AICC, Maharashtra while former Minister of state JD Seelam and former Congress Seva Dal chief Mahendra Joshi have been appointed as the Secretary and Shashi Kant Sharma as the Joint Secretary, AICC, attached with the General Secretary.
The AICC president Rahul Gandhi also constituted the screening committees for selecting candidates in Rajasthan, Madhya Pradesh, Chhattisgarh, Odisha and Mizoram. Kumari Selja, Madhusudan Mistry, Bhubaneshwar Kalita, V D Satheesan & Luizinho Falerioa will head the five panels respectively. On the other hand, Tamil Nadu leaders Christopher Tilak and C D Meyyappan were appointed as AICC secretaries for Andhra Pradesh.
Rahul is also changing the state president of the party and a new face will be given to Maharashtra in place of Ashok Chavan. The party will also appoint four working president this time to coordinate the party works in four respective regions.