Kejriwal kick-starts roadshow (Zadu Yatra) in Nagpur

Nagpur News : Aam Aadmi Party (AAP) chief Arvind Kejriwal kick-started a roadshow also called as Zadu Yatra from Chatrapati Sq. in Nagpur on Friday.
Hundreds of AAP supporters thronged to Chatrapati Sq.early in the morning from were the road show started with little delay.
The AAP chief is expected to take his roadshow to all six assembly constituencies in Nagpur.
According to AAP spokeperson in Nagpur , road show (Zadu Yatra)which started from Chhatrapati Sq. will cover all the constituencies starting from South-West.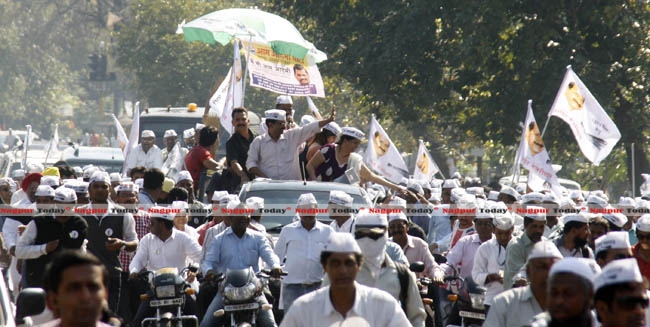 He will reach Kasturchand Park after criss-crossing all six constituencies at 4 pm to address public. Anjali Damania will also address the meeting. The detailed route is as follows.
AAP appeals people to join the Zadu Yatra at their convenient place and time.
STARTS Chatrapati Sq. 8:00 AM – Khamla Sq.-Pratap Nagar Sq.-Trimurti Nagar-Mangalmurti Sq.-Subhash Nagar-Mate Sq.-Abhyankar Sq. -VNIT-LAD
9:10 AM-Shankar Nagar sq.-Law College Sq.-RTO-Maharajbagh Gate-Aakashwani
9:50 AM-VCA Ground-Liberty Sq.-Sadar Rajbhavan-Chaoni-AG College-Old Katol Naka-Gittikhadan Police Station-Ramdeobaba Road-Dinshaw Factory-Jafar Nagar/AAP Office
10:45 AM-Ratan Singh Nagar-Mankapur Sq.-Nara Road-Khobragade Sq.-Bhim Sq. ITI-Indora Sq.-Chambhar Nala Road-Rani Durgawati Sq.
11:30AM-Itwari Station-Maskasath-Mominpura-Gitanjali Sq.-CA Road-Gandhi Putla Sq.-Telephone Exchange Sq.
12:25PM-Sataranjipura-Wardhaman Nagar-Pardi Hanuman Mandir-INOX Sq.-K.D.K.-Nandanvan Road-Sakkardara Sq./Chota TAJBAGH 1:30PM-Tukdoji Sq.-Shatabdi Sq.-Ajani Police Station-Tukdoji Sq.-Reshimbagh-C.P. & Berara-Gandhigate-Shukrwari-Medical Sq.-Imamwada-Dhantoli Police Station-Congress Nagar-Lokmat Sq.
03:10PM-Panchsheel-Buldi Main Road-Zero Mile-
ENDS K.P. Ground 04:00PM