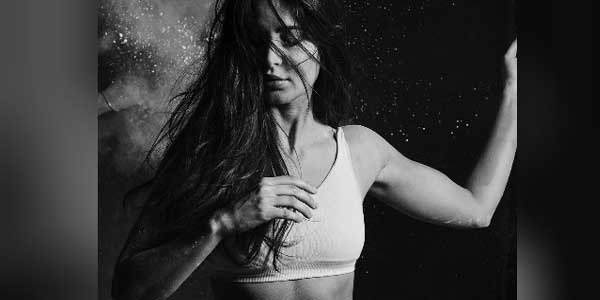 Katrina Kaif, so flawless!" the actress was told after the actress Instagrammed a photo, which appears to be from a recent photoshoot. In the comments section of the photo, which is now viral, Katrina has also been hailed for setting body goals – "artwork", read a comment. "That body though," said a user while another added: "If I'm dead, you know the reason." Posted on Tuesday afternoon, Katrina's photo has over 5,68,892 'likes' in three hours.
In the photo, Katrina is dressed in a bra-let and what appears to be a chiffon skirt – her two-piece attire shows off her bare mid-riff, which is the source of all the appreciation on her feed. What make the monochrome frame even more dramatic is the brilliant play of light and shadow.
We also spotted something similar on Katrina's timeline just a few days ago, when she was hailed by her colleagues at large. Priyanka Chopra wrote: "stunner" while Jacqueline Fernandez couldn't believe it and wrote: "Damn." Priyanka wrote "Malang" in her caption, which was a song from her 2013 film with Aamir Khan Dhoom 3. Katrina featured in stunning choreography, also comprising acrobatics, in the song.
Katrina Kaif wasn't on Instagram until April last year, and once she made her debut, there was no stopping her and there still is no stopping her. Almost all of Katrina's posts garner impressive number of 'likes' and comments. The Internet's recent favourite ones are the photos she posted from her Dabangg Reloaded tour in the US.
Katrina Kaif is a known fitness enthusiast and goes to the same gym as Alia Bhatt and Janhvi Kapoor. She has successfully set major fitness goals not just with her Instagram posts but also with songs like Sheila Ki Jawani, Chikni Chameli, Kamli, Kala Chashma and also Malang.