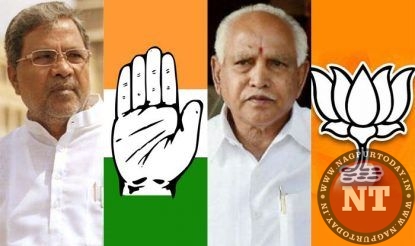 Sensex up by 347 points at 35, 903 with the fight seems to be turning into a one-sided match. The BJP is now leading on 110 seats, Congress on 62 and JDS on 48. The stock markets started rallying within minutes after BJP crossed the landmark figure of 100 seats in early trends.
The Sensex, however, opened flat Sensex at 35,570 with all eyes on the outcome of the Karnataka assembly elections. The early trends suggested a hung Assembly when the BJP was ahead with 93 seats, Congress at 91 and JDS at 26. Following the cue, Nifty opened 10 points down at 10,795. One has to wait till the afternoon for final results till the counting of votes will be completed.
The exit polls have indicated 100 seats for the BJP on an average, 88 seats for the Congress and 32 seats for JD(S). If Congress and BJP fail to form the government, then an alliance with JD(S) will be required for the formation of next state government.
According to Kotak Securities, "A victory for the BJP will be received well by the market but a narrow defeat will not dent the market's optimism regarding the BJP's chances in the general elections next year. The market has pinned its hopes on earnings recovery and largely ignored the deterioration in the macro, which may weigh on heady multiples.
The report states, "We expect the market to take a BJP victory positively; however, a narrow Congress victory will not lead to a great deal of consternation among market participants with six months to go for the next state elections and 12 months for general elections."
It is going to be a tough fight between BJP's B S Yeddyurappa and Congress's Siddaramaiah. The stock markets seem all braced for the action to be followed.