Kanhaiya is safe and satisfied, says his family after meeting him in Tihar jail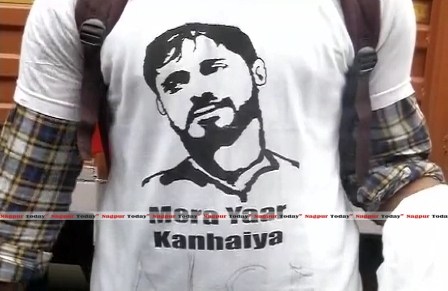 New Delhi/Nagpur: Just after meeting Kanhaiya Kumar, the family members of the jailed Jawaharlal Nehru University Students' Union president said that he is doing fine in the Tihar jail.
Lodged in jail number 3, Kanhaiya is mainly spending his time reading books from the jail library. He is also writing a jail diary. He regularly follows newspapers, especially since he wants to stay updated on developments related to his case.
Manikant Singh, his brother said, "he asked us not to be tense. He told me to convey to our parents that he is fine. Our mother was worried after the Patiala house court attack on him. She had asked me to convey that everything will be alright. We all are with him. Kanhaiya is more safe inside Tihar than outside. He said that south district police saved him from attack at the court."
Yet again seeking Prime Minister Narendra Modi's intervention, Kanhaiya's uncle Rajendra Singh said, "Kanhaiya is satisfied. He said that he has not said anything which will raise question on him or the family. His life is under threat. I want to ask the PM, if he is so concerned about the poor, why is he not asking or saying anything for him."
National secretary of the CPI Amarjeet Kaur who also met Kanhaiya said, "He is very strong and firm. He is happy that JNU is speaking in one voice. Everyone through this case is aware how things could be doctored. He said that he believes in constitution of India and the rule of law. He is ready for any probe. He is also ready for audio testing."
Kaur also added, "The police was present throughout when the programme started and Kanhaiya reached one-and-a-half hours late. JNUSU was not the organiser, ASIF, AISA and SFI were not the organisers. He is hale and hearty. He is not facing any problem in jail."