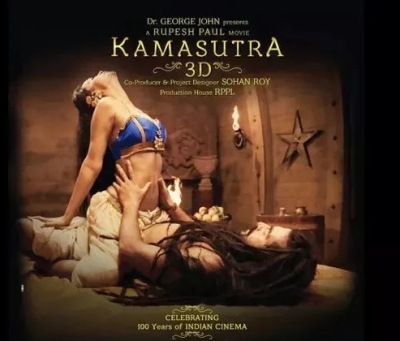 Shelyn Chopra always look for new ways to hog the limelight and this time she went on to curse the director of her own erotic movie Kamasutra 3D which is looking for opportune release. Sherlyn went to call her director Rupesh Paul a pimp.
Surprisingly Sherlyn had not so long ago bestowed respect in Paul by addressing him as appa.
Call it a publicity stunt the Sherlyn style of any other serious issue that may be happened between Rupesh Paul and the Bollywood hottie, but Sherlyn has a lot to bitch about her director these days. The war of words turned uglier when the Bollywood blonde called Rupesh a pimp.
Apparently there are some big creative differences between Sherlyn and Rupesh that eventually led to Sherlyn's withdrawal from the movie; this obviously agitated the director. Sherlyn chose to ditch even the trailer launch of the movie because she is not happy with the fact that she has not been given adequate exposure in the film's  sensational trailer.
Rupesh went on to question that how could Sherlyn leave the film, when she endorsed it in Cannes film festival. "I have shot all the scenes with her for my movie except for few promotional ones. Then I fail to understand when did she quit? After being a major part of us in Cannes, American Film Market, IFFI- Goa and more, even till the end month of the last year, when did she actually quit?" said Rupesh in his defence.
Sherlyn too, unleashed a verbal attack of sorts in response, when she got to know about the unsavoury comments he was making about her."Mr.Hatela, @rupeshpaul says dat he cannot be my 'PIMP'. Kyun nahi?? Shakal se toh Pimps ka Boss lagta hai.. Ab woh kya kamaayega aur kaise?" declared Sherlyn.
The ugly spat is for the world to witness on Sherlyn's Twitter account, with the babe calling her director friend a pimp and appa in the same breath. To this comment, Rupesh has responded in a quirky way. "Dear Sherlyn, you can hire a pimp for your business, but spare your father," said Rupesh.