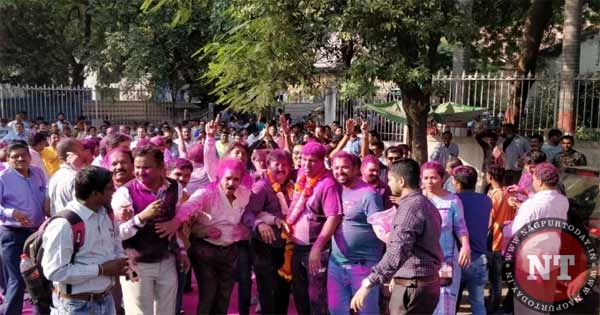 Kamal Satuja elected as President of District Bar Association Nagpur.
NAGPUR: In a major upset in DBA polls, Kamal Satuja defeated BJP Legal wing secretary Uday Dable for coveted president's post by 275 votes. Dable is tipped to be favourite being a close aide of chief minister.
Nitin Deshmukh has been elected for the post of secretary.
Adv Kamal Satuja, a former Vice-President of DBA, was backed by a strong group led by senior advocate and ex-HCBA President Avinash Gupta, Adv Shreerang Bhandarkar, ex-DBA President Sudeep Jaiswal, Shyam Dewani and obviously received backing of young brigade of High Court and District Court.
.
For the key post of DBA Secretary Nitin Deshmukh emerged victorious in a nail-biting finish by a slender margin of 24 votes over his nearest rival Vivek Kolte.
For DBA Secretary's post,there was contest between five candidates Vivek Kolte, Ranjan Deshpande, Mangesh Moon Nitin Deshmukh and Sushil Kalyani. A low-profile Nitin
Deshmukh was preferred by most district court practitioners.
Out of 3,905 members, as many as 3,290 exercised their voting right on Friday in thi shotly contested elections.
For two posts of VicePresident there was a contest between Parag Bezalwar,Shashank Choube, Soumitra Pal, Vilas Raut, Chhaya Yadav,Vilas Selokar, PrabhakarBhure,Manish Gupta, Vivek Karade, Sunil Lacharwar and Tawir Sheikh. Shashank Choube and Vivek Karade emerged victorious.
For the one post of Library in-charge there is contest between Kirti kumar Kadu, Sharad Panpalia, Nitesh Samudre, Vicky Tambe and Mangala Warke.For the key post of DBA treasurer Nitin Gandhi, Anil Gulhane, Tarun Parmar,Sagarika Pathak.
In all there are 67 candidates and majority of them for two posts of joint secretary and nine posts of executive committee