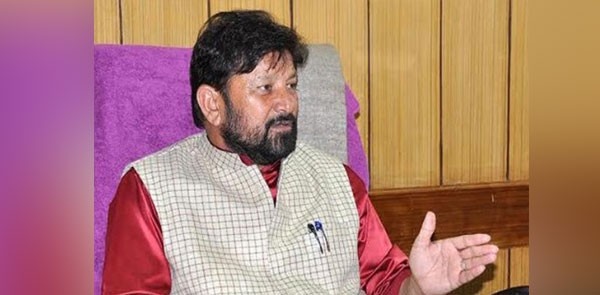 Former Jammu and Kashmir minister and senior Bharatiya Janata Party leader Choudhary Lal Singh on Friday warned journalists to 'mend their ways' over their reporting on the Kathua rape and murder case, with an apparent reference to the assassination of journalist Shujaat Bukhari.
The forest minister in the previous PDP-BJP government, Singh was asked to resign from the cabinet after he participated in a rally in support of the accused in the rape and murder of an 8-year-old Muslim tribal girl in Kathua.
In a reference to Kathua case, Singh told a press conference that Kashmiri journalists had created a "wrong atmosphere" there.
"Now I will tell Kashmiri journalists to draw a line on the journalism you do and how you have to live. Do you have to live like what happened to Basharat, so that such a situation emerges?," Singh said in an apparent reference to Rising Kashmir editor Shujaat Bukhari who was killed by gunmen outside his office on June 14.
"So mend your ways and draw a line, so that this brotherhood remains intact and there is progress, Singh said.
Reacting to Singh's comment, former J&K chief minister and National Congress leader Omar Abdullah tweeted, "Dear journalists, your colleagues in Kashmir just got threatened by a @BJP4India MLA. It seems Shujaats death is now a tool for goons to use to threaten other journalists," Omar tweeted.